by Ian | February 3rd, 2013 | News | No Comments

Looking back on 2012; we completed 10 buildings/projects and directly involved more than 50 students and volunteers in our architecture design/build programs. Here's a synopsis of those 10 completed projects.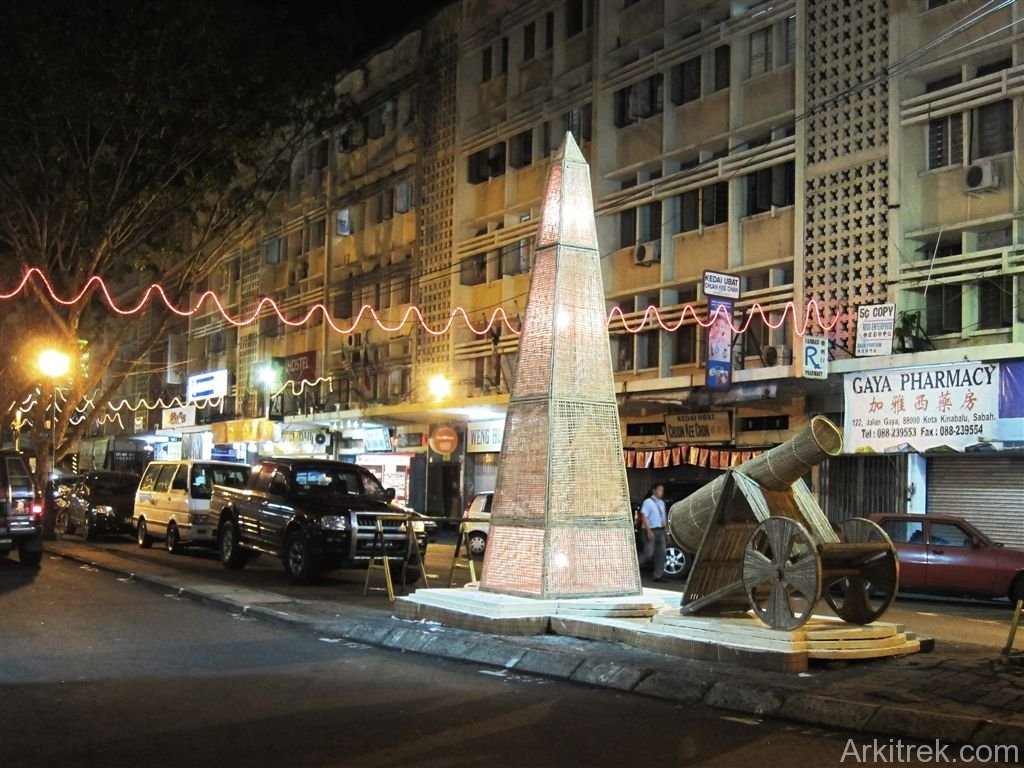 January 2012 saw Arkitrek completing our first urban project; the recreation, using bamboo, of a historic war memorial as part of the Bonding With Gaya Street community art exhibition staged by North Borneo History Enthusiasts and friends. Rachel Lok was the Arkitrekker in charge, during her summer break from architecture school in Melbourne.


In May, former Arkitrek Camp participant David Arnott returned to lead a Camp of his own. The hardest bit about David's job was collecting driftwood for building foundations and superstructure. The design/build team completed a bunkhouse for Camp Borneo on Mantanani, featuring green-and-hairy cladding and a first-flush-diverter for rainwater harvesting. See a collection of photos or read the timeline diary.


June, July and August were exceptionally busy on the design/build program front. First up; students from Jerudong International School (JIS), Brunei crowned a year-long project by installing the orang-utan training structures that they had designed and prototyped. Arkitrek's Sarah Greenlees writes about the process here and as a follow-up, two students Ke Shin and Vicky produced a stunning cartoon to document the groups' contribution to orang-utan rehabilitation.


Meanwhile, also at Sepilok, Arkitrek intern Adam Leigh-Brown found the secret to good teamwork with a bunch of Raleigh volunteers designing and building enrichment structures for sun bears at the Bornean Sunbear Conservation Centre (BSBCC). You'll have to ask Adam how he found the magic touch. It might have had something to do with a little friendly competition with…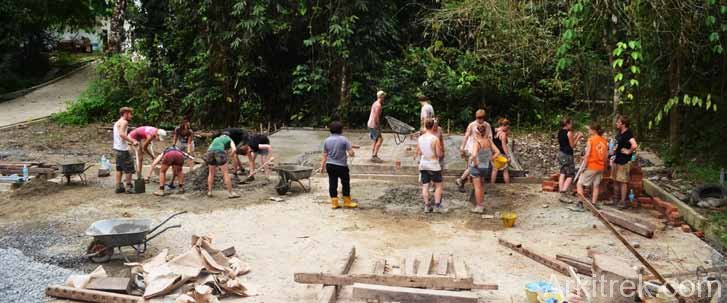 …fellow Arkitrekker, Maryam Gomary. Maryam provided inspirational leadership to a Camps International team engaged in building a composting area in a swamp. Over 20 tonnes of hardcore were shovelled and hand-compacted into the mire before casting a concrete slab that would hold the the composting bins and roof structure. Food and vegetation waste from the bear cages at BSBCC can now be treated more effectively.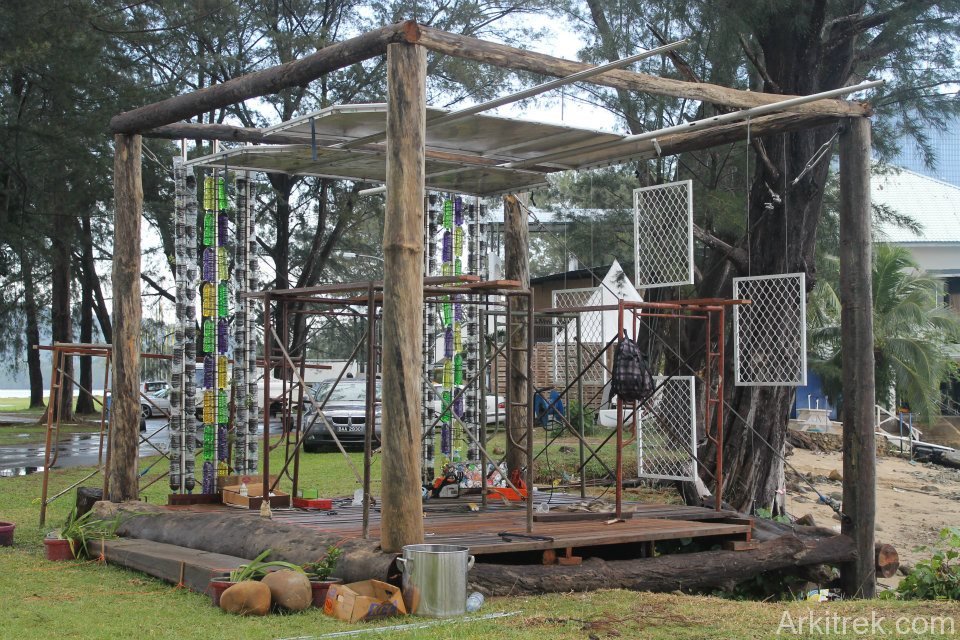 Some JIS students had barely recovered from the orang-utan project than they volunteered to help out with Arkitrek's first project in Brunei. A team of students from the Institute Technology Brunei, International School Brunei and JIS designed and built a series of green building pavilions on Serasa Beach. Leading the team were Arkitrekkers Rich Strange and Andy Golding, assisted by intern Farihin Jaafar. Read Farihin's blog and the project summary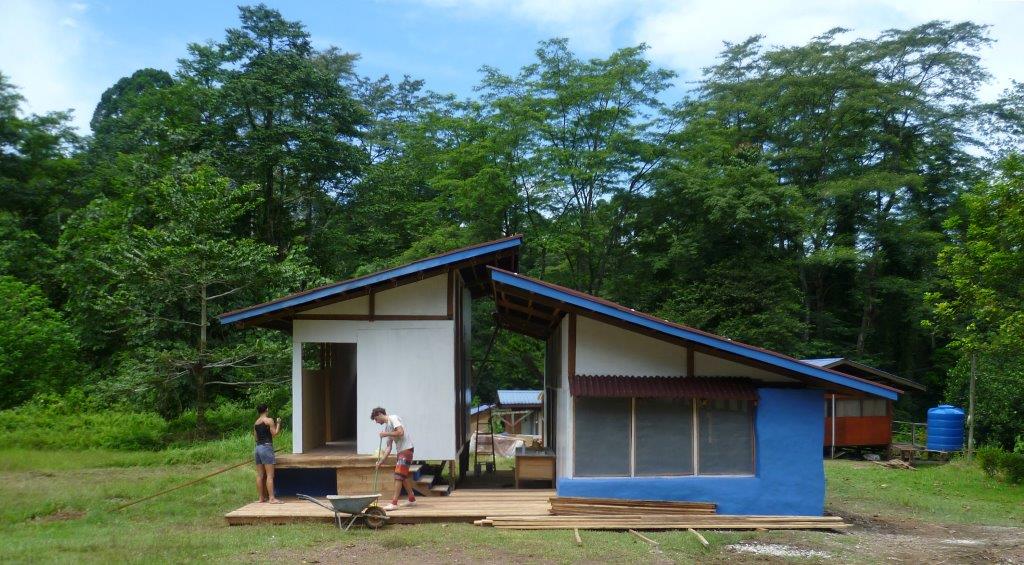 In an audacious feat of coordination we built a field laboratory at Malua at the same time as the above four projects were going on at Sepilok and Serasa. The success of this innovative building on a remote rainforest site was entirely down to the inspired leadership of Daniel Cohen and the sheer dedication of the arkitrek design-build team together with Malua field staff. Arkitrek Camp participant Jonathan Livesey wrote about his experience and a synopsis of the project, together with more photos is on the Malua portfolio page.


Arkitrek's first UK project was a 2-day design/build workshop at the Small Is…Festival, jointly organised by Engineers Without Borders and Practical Action (UK). An all-star cast of experienced Arkitrekkers included; Martin Lambie, Maryam Gomary, Lewis Kelly, Sally Collinson, Rich Strange, Andy Gilding and Adam Leigh-Brown. Team leader Martin Lambie will be back in Malaysia in 2013 to lead our Arkitrek 2013 design/build program.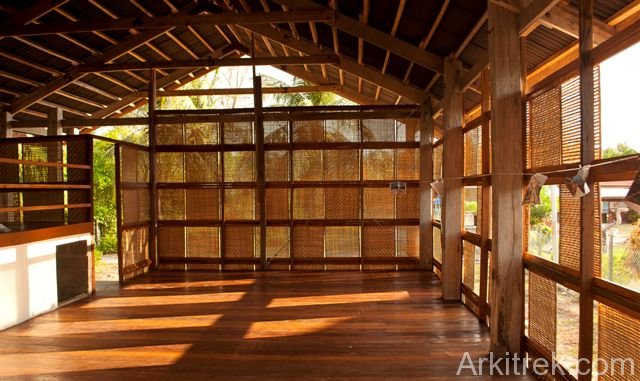 The Mantanani Community Learning Centre was completed in October 2012, a gorgeous result from 2 years' hard work by Arkitrekkers and Camps International staff and volunteers. The superstructure is mostly driftwood, a locally appropriate material to the island, and clad with woven bamboo panels produced on the nearby mainland at Kg. Tinangol. The design process was instigated by Arkitrek intern Eoghan Hoare with subsequent leadership by Oliver Wilson, Michelle Martin, Hasmartina Celestial, Tan Zhen Ron, Nicholas Nearchou and Anna Nicholls. The success of the project is down to the creative rapport that all our interns were able to form with Albi, the village headman, and his younger brother Hasheem. There are several blog posts charting the process.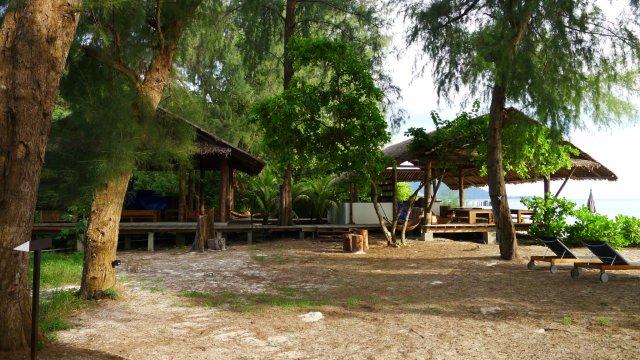 Batu Batu Long Beach is the nature activity and conservation centre at Batu Batu Resort on Pulau Tengah in Johor, Malaysia. Of the four builings on the 0.3ha site, only the beach bar pokes through the trees at the beachfront, the rest nestle in the shade of casaurina groves. This approach conserves more than 80% of the habitat close to the high tide line, a critical resource for turtles and shore birds. Pulah Tengah was a UNHCR refugee camp in the 70's, ruins of which were protected so that tourists can enjoy the cultural as well as natural heritage of this beautiful island.
2013 will see more student-led design/build projects plus three big jobs on site; the Bornean Sun Bear Conservation Centre, Avantha Rainforest Recreation & Education Centre and the SAFE Project. Look out for updates on these projects in due course.