by Ian | April 19th, 2013 | Arkitrek Camp, SAFE Project | 2 Comments

The SAFE Project is an ecological experiment which aims to understand the impacts of forest modification. This Arkitrek Camp offers students the chance to get involved in the design/build of a field centre for the SAFE Project.
The Arkitrek Camp dates are 20th June – 19th August 2013 and the cost is GBP1790 inclusive of all board, lodging, facilitation and logistical support. Merit based scholarships and/or extended interships are available.
Deadline for applications is Friday 31st May 2013. Apply Now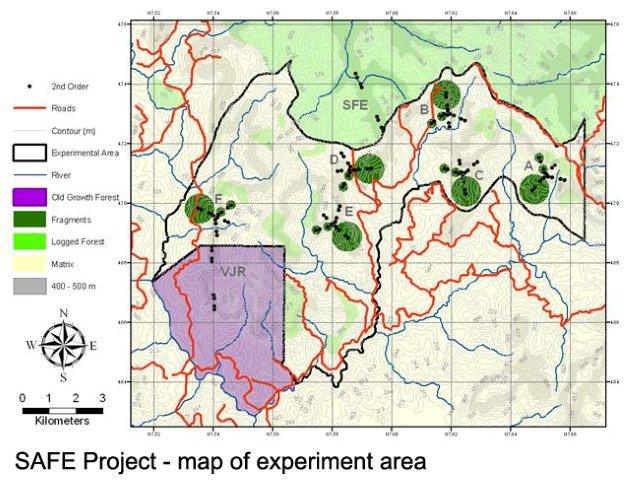 Highlights & Aim
The highlight of this Arkitrek Camp will be to design and build a Powerhouse using materials innovations appropriate to context. Design concepts tested on the Powerhouse may form the basis of subsequent buildings making up the SAFE Project permanent field station. Prototyping is an essential stage in testing and exploring the potential of a new material.
The experience will be challenging, both physically and mentally and so is best suited to intrepid, open minded and reasonably fit travellers.
We are offering two merit-based scholarships to the value of 50% of the Camp Cost. Eligibility for a scholarship will be determined by the application form and cv/portfolio.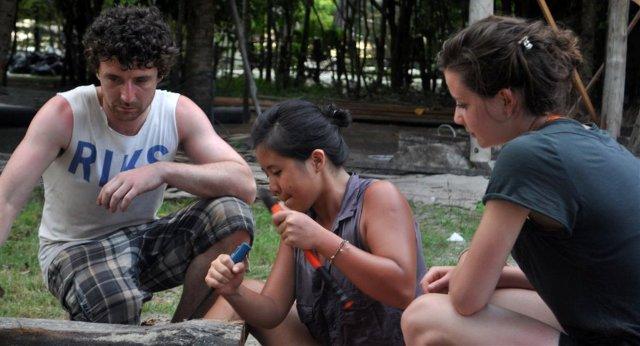 Design and Build with the Ecologists
The concept of a 'natural ecosystem' is fast disappearing as humans modify the world at an ever-accelerating rate, meaning much of the world's biodiversity must now persist in human-modified landscapes. The SAFE Project is conducting one of the world's largest ecological experiments to understand the myriad ways in which logging, deforestation and forest fragmentation modify the functioning of tropical rainforest, impair their ability to deliver ecosystem services that people care about, and reduce their capacity to support the diversity of life. For more information about the SAFE Project visit SAFE Project website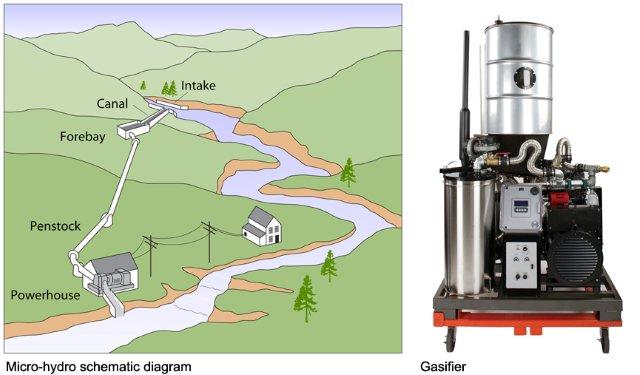 The design brief for Arkitrek Camp SAFE is for a powerhouse to shelter both a both micro hydro turbine and a wood gasification generator at the SAFE site. Design constraints include sound attenuation, ventilation, wood chip processing and storage, tool storage, etc.
Some of the materials under consideration are walls made from earth, lime and natural fibres, composite columns made from post industrial waste, green walls, etc. The purpose of using predominantly earth and natural fibres is to reduce embodied energy, both in the material itself and in transporting material to site. There is also a logistical and cost advantage of reducing transport requirements, especially on a remote site. Other advantages of these materials are thermal insulation and moisture permeability; properties which can help passively regulate temperature and humidity inside the building.
Earth and natural fibre materials and technologies that Arkitrek has developed to date include; geotextile 'sandbags' and lime:natural fibre composites. Sandbags can be filled on site and the natural fibre can come from agricultural waste.

In addition to the design + build of a powerhouse, the role of the Arkitrek Camp team will be to fine tune the overall field centre design brief and design concepts with the participation of the SAFE project staff. Arkitrekkers will learn participatory design tools by direct application.
There will be an opportunity for one of the Arkitrek Camp participants to stay on at the SAFE Project site after the Arkitrek Camp as an Arkitrek Intern. Their job will be to help continue design development and construction monitoring. The Internship will be offered on merit. Please indicate in your camp application whether you want to be considered for the internship. Arkitrek Interns terms and conditions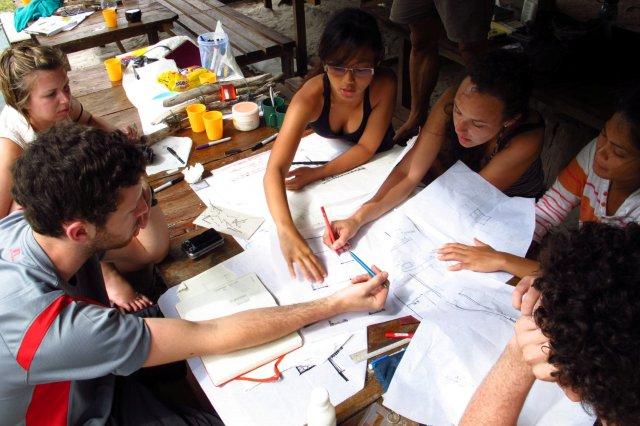 Itinerary
The program itinerary is designed to provide an appropriate balance between team building, design, research and construction.
You will learn to write a design brief, develop concept design ideas in group workshops, test those ideas and implement them. Workshops will be facilitated to encourage participants to link and connect ideas and build on each other's contributions. Arkitrek staff and guest facilitators will guide the process to ensure a fluid workflow and integration of ideas.
During construction the team will work hand in hand with SAFE Project staff, contractor/s, sawmill manager and oil palm mill/s. Participants will have to problem solve as they come up against technical issues and will gain experience from working with local tradesmen of varying levels of ability, experience and spoken English. The design will constantly have to be reviewed against progress and the reality of time constraints to ensure that the project is completed before their departure. The team will also be responsible for full documentation of their work, and ensuring that any outstanding work or future plans are clearly outlined and recorded for future teams to pick up and carry on as necessary.
Life on site is very basic! There is a squat toilet, washing is in the river (next to the camp) and sleeping is in fixed stretcher-style hammocks. Blankets, pillows and mosquito nets will be provided. The group will have opportunities to take walks and explore the surrounding forest together with scientists and researchers and learn about ecology, conservation issues, the web of life and our role as designers in all of this.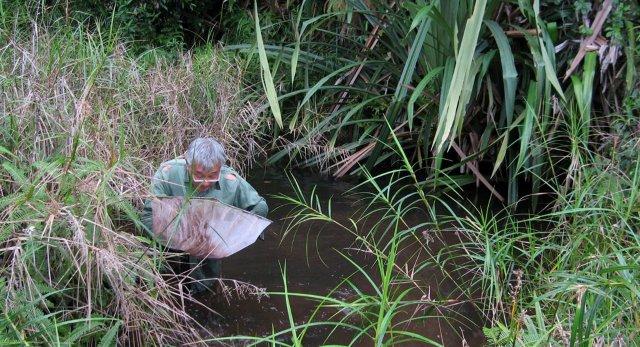 Facilitation and Management
The facilitation team and program will be directed by Sarah Greenlees and Arkitrek founder Ian Hall. The project itself will be led on the ground by Camp Leader Peter Lutz.
Sarah has been with Arkitrek for over three years and has led the facilitation calvary charge on previous camps. Ian has 8 years practical experience of community engagement and experiential learning in Malaysia. Peter is a graduate of the University of Colorado architecture program and has a foucus on Design Build Education.
The Arkitrek Camp design process, proposals, construction and finished project will be documented throughout and distributed publicly and to all participants as a record of their unique contribution and experience.
Itinerary Summary
June 20th – Arrival + Welcome (KK)
June 21-23rd – Briefing +Team building (KK)
June 24th – Bus transfer to Tawau (Tawau)
June 25th – Transfer to project site (SAFE)
June 26th-21st July – Project work (SAFE)
July 22nd-24th July – Project Break!
July 24th-17th August – Project work (SAFE)
18th August – Flight to KK / Wrap up / Dinner (KK)
19th August – Transfer to airport
The cost for Arkitrek Camp SAFE is GBP1790 inclusive of all board, lodging, facilitation and logistical support. We are offering two merit based scholarships to the value of 50% of the Camp Cost. Eligibility for a scholarship will be determined by the application form and cv/portfolio.
One extended internship is available based on merit. The minimum duration is 6 months from the final day of the Arkitrek Camp. Please indicate in your application process whether you want to be considered for the extended internship.
Deadline for applications is Friday 31st May 2013. Apply Now
Contact
For questions and further information please contact us.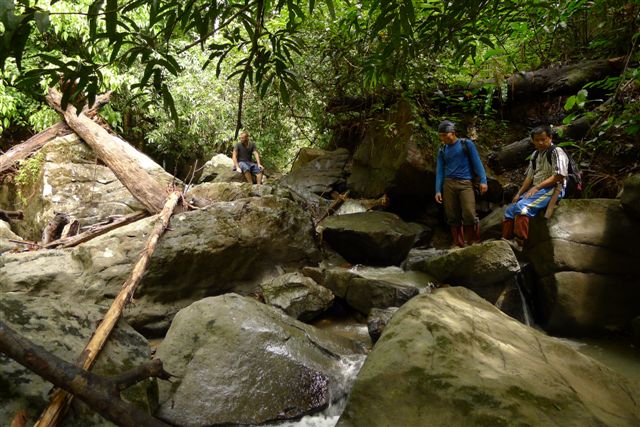 2 Comments for Arkitrek Camp S.A.F.E