by Ian | February 16th, 2007 | Danum, Maliau & Imbak, Jungle Trekking | No Comments

Text by Andrew Lo
Photos by Andrew Lo and Ian Hall
ARKITREK – setaip hari dalam hutan (everyday junglism)
I have just returned from a 5 day expedition through Borneo's finest rainforest… What a trip! The landscape is truly magnificent, the terrain is rough, rugged – physically and psychologically demanding, but the places I have been have made all the blood, sweat and cursing all the worth while J We walked several kilometres everyday visiting different camp sites which need developing. At the same time we observed the condition of the trails through the jungle (where trails existed!) and identified different sites along the way for potential rest stops for future visitors. The challenge will be to make the architecture as unobtrusive as possible, respecting the existing terrain and maximising spectacular views through and across the rainforest.
One of the highlights was visiting the Maliau Falls, deep in the heart of the basin – absolutely beautiful. The waterfall cascades 7 tiers – I was lucky enough to be swimming beneath and between the final 2. It felt so good to be refreshing myself in the river's clear water, knowing that when this place is developed the visitors will not be allowed such privileges.
After visiting the falls we trekked 3 kilometres uphill to Lobah Camp. It was hard work, especially as I suffered a hunger attack just before we reached camp! I needed to stop and replenish myself with emergency biscuits as my knees went wobbly 1 km before our destination. As I climbed the final makeshift ladder I encountered Ian sitting on a rock, chewing a straw of grass and grinning. 'What took you so long?' 'Munchies man…' I then took notice of where I had arrived and with a big smile on my face, got snapping with my camera. From here I had a 360-degree panoramic view of the basin rim, looking down onto the forever-sprawling forest canopy – stunning.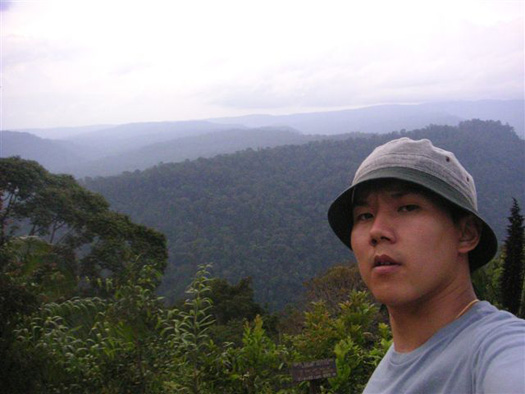 View from Lobah Hills at sunrise.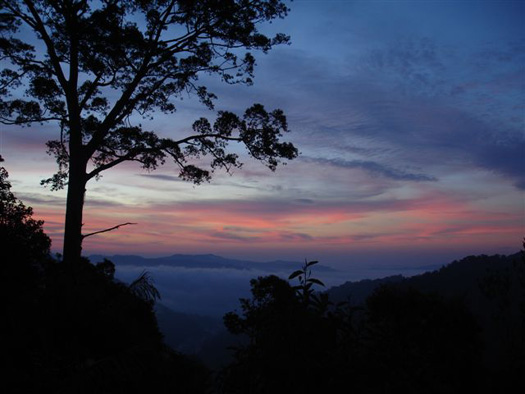 The following day, I spent the best part of it falling arse over heel downwards! It rained overnight and so it was wet and slippery underfoot. My shoes let me down, as they are not proper junglist footwear… I wasn't helped by the fact that no-one had walked this route for 3 years and so the trail was non-existent in some parts.
I soon realised after much rolling around in mud whilst shouting out obscene profanity that this was part and parcel of being a true-junglist. Life in the jungle is not about jumping around the club around waiting for the next wicked bass-line to drop – It's about picking yourself up after each fall and getting on with it! It goes hand in hand with other everyday inconveniences i.e. leeches in your shoe, other bugs that bite, being followed by a swarm of bees who want nothing more that to lick the sweat off your skin, wearing the same minging t-shirt everyday, sleeping in hammocks that are 12 inches too short, the list goes on… but I'm not grumbling (much;) at all – a TRUE junglist, fights for survival!
So we soldiered on through the wilderness and visited two more sites. Our final destination before heading home was the Camel Trophy camp. This was the first camp to be built by a team of volunteers in 1993, 'the for the benefit of ongoing scientific research and conservation within the Maliau Basin…' or something like that. It is set in a clearing of beautiful heath forest, 1085m above sea level. It was the most comfortable of all the camps we visited, with proper toilets and beds! And we really appreciated these luxuries after 6 gruelling hours of relentless uphill trekking.
We headed home next morning, which was all downhill and the terrain was thankfully dry! On the way, one of the rangers spotted something rustling in the trees and started running after it… We were quick to follow and Ian is 99% convinced he saw through his binoculars an orang utan swinging through the trees! How cool is that!? They are not a common sight here, so to see one in the wild is a real treat. We reached Agathis Camp in good time and were rewarded by cold beers and cokes on our return.
It's now Tuesday (I think) and we're at the studies centre working as our generator is still caput! It's lunchtime now and I'm ready for my packed lunch – fried chicken rice J So I'll sign off now! (We've just had a power cut here too!).
Best Wishes,
Your Everyday Junglist

Related Posts