by Arkitrek | December 12th, 2011 | Danum, Maliau & Imbak, Jungle Trekking | No Comments

By Elise Mandat
Imbak Canyon, one of the last virgin lowland rainforests of Sabah, Malaysia, isn't for the faint of heart.
DAY ONE
7:15 AM August 13, 2011 –
Ian rolls up in with Ishmael in a beefy air-conditioned jungle truck and Daniele and I throw our backpacks in the back.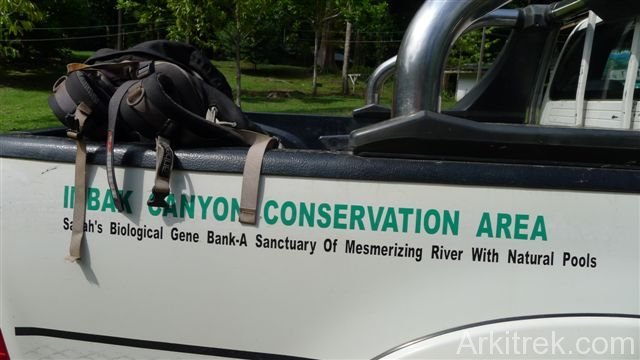 For the first six hours the roads are paved and for the last two through the palm plantations, as bumpy as the surface of the moon. I am sick the entire time anyway and everyone is patient with my vicious heaves. Poor Ishmael is fasting all day long because it's the middle of Ramadan, but he never lets on he might be getting nauseous himself even as I move up to the queen seat next to him.
3:00 PM August 13, 2011 –
We cruise through the Imbak river!! Thankfully the water level is low enough. About midway through, my visions of being swept down the river become more real…and then we start climbing the opposite bank.
3:30 PM August 13, 2011 –
Despite lots of logging going on to clear land for the palm oil plantations, The landscape is still beautiful.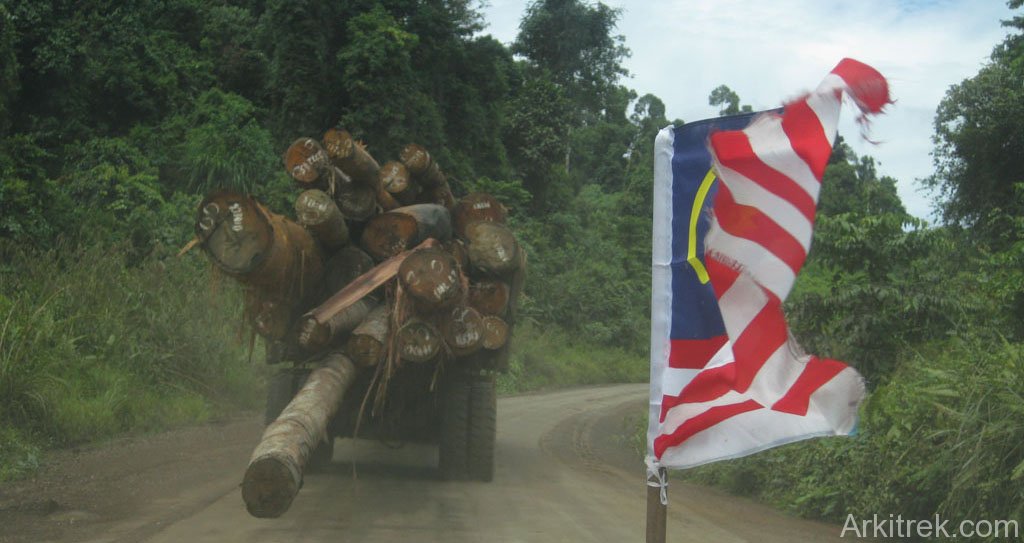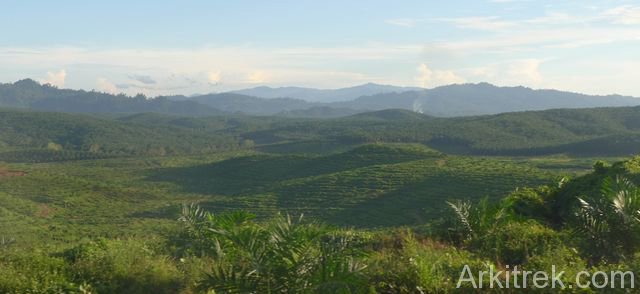 4:30 PM August 13, 2011 –
Arrival at Tampoi Basecamp. We have bucket showers, hot rice and fish, sturdy Raleigh-constructed shelters, and mosquito-netted beds waiting for us.
DAY TWO
Noon August 14, 2011 –
A warm-up day–we leave to take a practice hike to the Raleigh-built Gunung Kuli science research camp nearby to see its layout and construction. A few minutes out and an 80-foot tree has gracefully lain down across the road.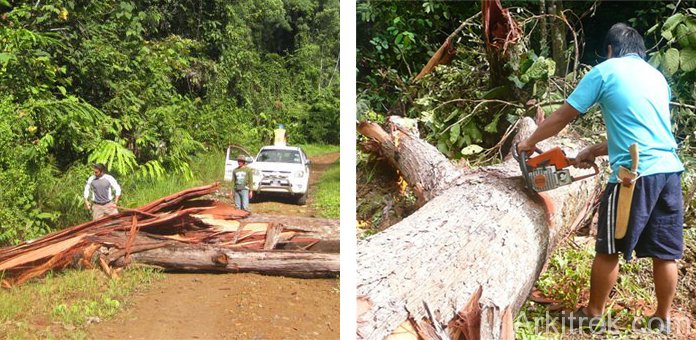 We wait an hour and play with shy leaves as Ian immediately starts exploring and we all wait for the chainsaws to come. If you don't do anything else, check out the shy leaf video–what an incredible creature/plant/other?! [Ed: Mimosa pudica is a pan-tropical weed native to South and Central America]
Daniele gets too curious with the 'stingless' bees nest and figures out the bees are not stingless at all.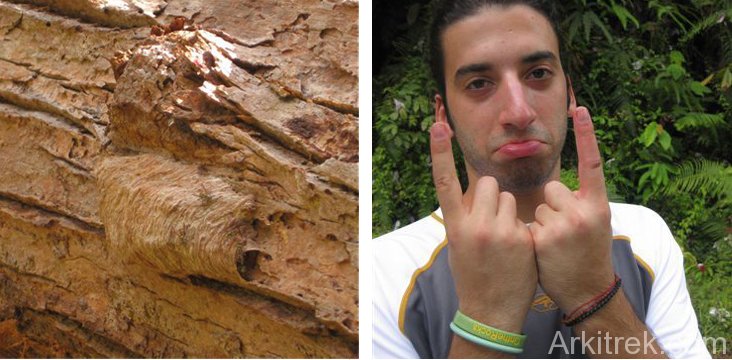 This hike's an hour long, flat ground, full of leeches, and riddled with crazy life I truly thought only existed in Dr. Seuss. First true trip into the jungle, can you tell?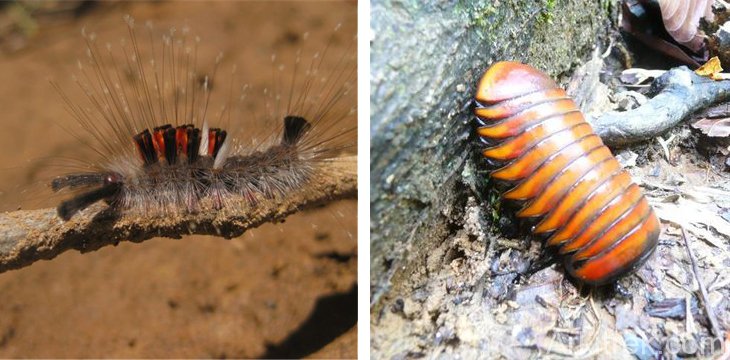 We study the research camp layout, use of materials and construction.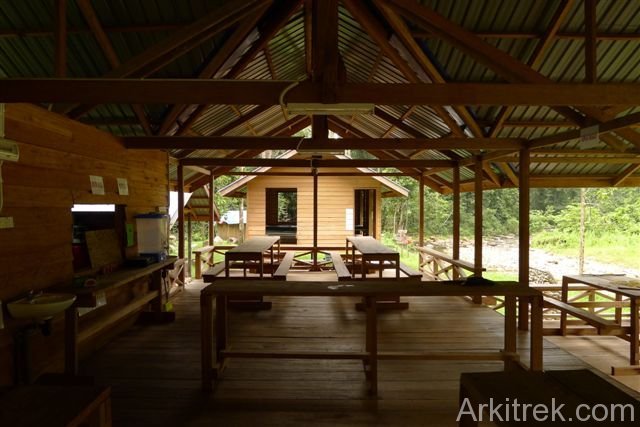 I sit on top of a log straddled over the river for a long time. On the drive back I ask to ride standing in the back of the truck through the bumpy plantation roads back to base camp. It's glorious.
DAY THREE
9:00 AM August 15, 2011 –
We sip tea, eat noodles, and stare at the heart-stopping scenery of 50-meter trees shrouded in mist to wake up. I'm glad Ian always has his binoculars on hand–we can see the hornbills flying in the morning eating figs and bees hovering over the blossoming fruit trees.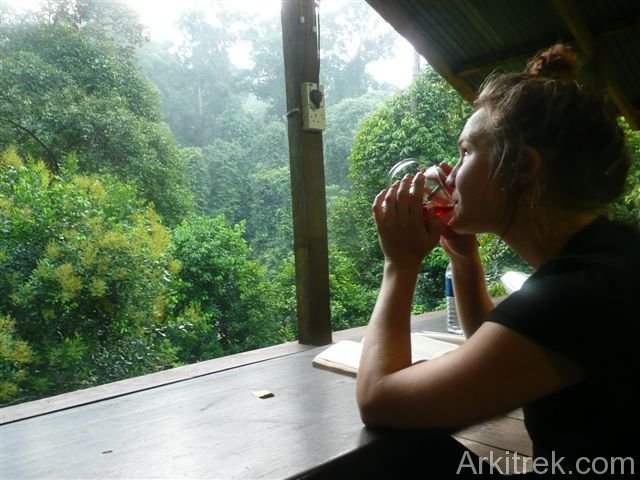 Three tiny girls live at Tampoi Basecamp and we chase each other around the breakfast tables.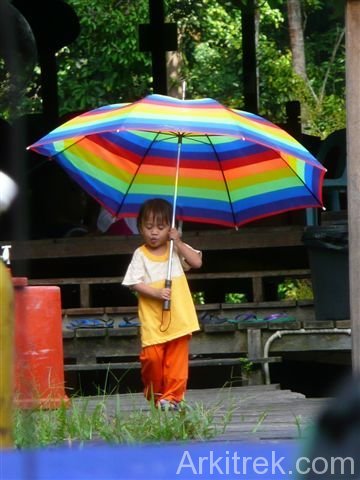 11:30 AM August 15, 2011 –
This…is most definitely not a warm-up day. We pack one dry set and one wet set of clothing for the next three days and strap on our Adidas Kampung. The guides sharpen their parangs.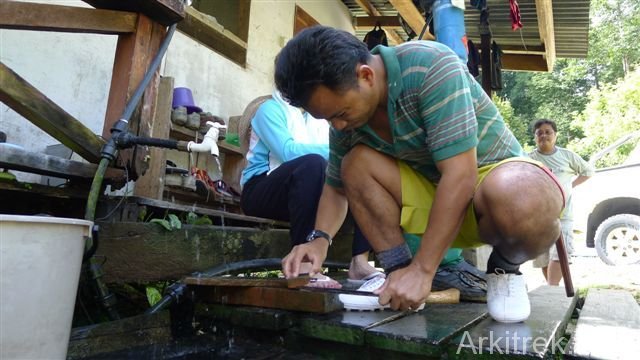 The drive to BBC [Big Belian Camp] is short, ten people packed in the truck. Three of us with six guides is the first sign this may be an intense and adventurous [code for excitingly risky] trek.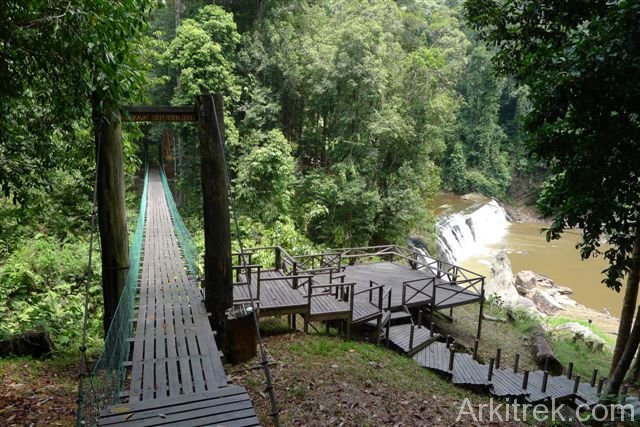 Stunning trailhead and suspension bridge.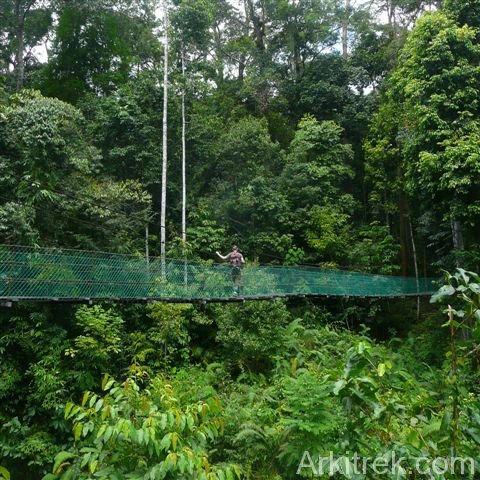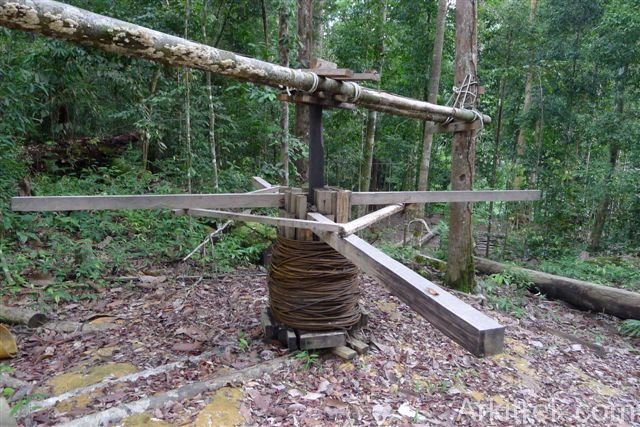 1:00 PM August 15, 2011 –
I'm not sure how all the guys are hiking with packs–I imagine I would be falling off the skinny path down the muddy hill. Thankfully a wealth of trees and spongy forest floor wait below to break a fall. Daniele is carrying a pack we're sharing–I am mentally preparing to carry it on the way back.
2:30 PM August 15, 2011 –
Barely a word has been spoken. The rhythm is nice and we're breathing hard but deeply. We get to the first river crossing where another crew on their way out meets us. "Perempuan!" They're surprised to see a woman.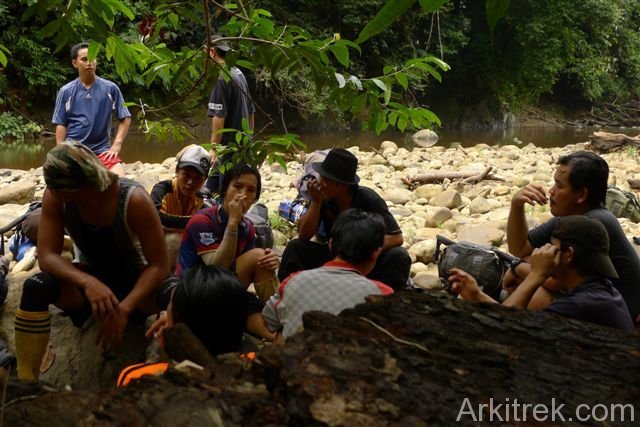 We squat on the rocks–Ian busts out some lunch and Daniele and I eat a precious few Mentos. Leeches find our warm bodies immediately and I end up fending off and tossing away the same leech multiple times. They are so much faster than you think.
First river crossing. The water is not cold. It's harder to keep balance on the shallow bank, and by the middle of the river the water helps carry me. Up to mid-thigh now. Almost to the other bank…I trip into the water. Glad I didn't have the pack. I have two more crossings to practice water-walking.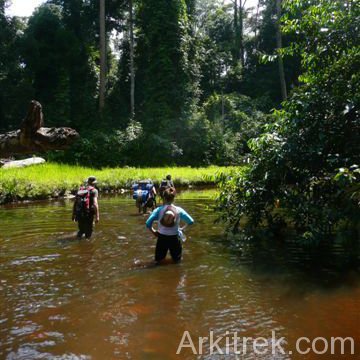 3:30 PM August 15, 2011 –
The variety and beauty of fungi is unreal. Someone could study only that for their entire life. It's one of my favorite parts of the jungle.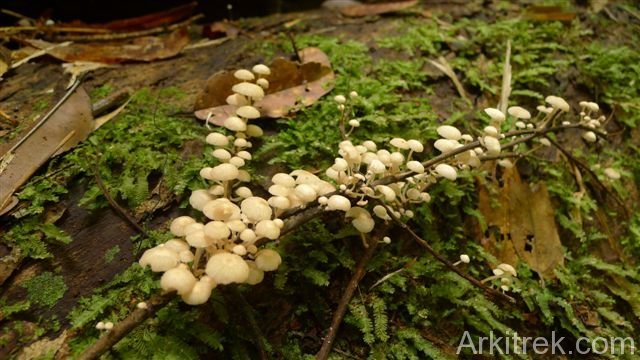 4:30 PM August 15, 2011 –
We see a spider as big as my palm and under her is a rocky pinkish egg sack the size of a quail's egg.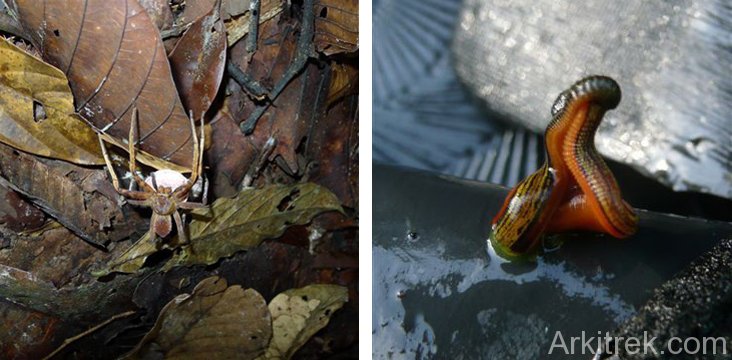 Tiger leeches are latching on from above and underneath–my shoes are filled with them and I decide I'll wear three pairs of socks tomorrow instead of just two. Some of the guides are wearing shorts and have the blood stains of leech battle. Ian tells us the leeches inject an anaesthetic so we can't feel their suction, and an anticoagulant to keep our blood flowing.
We rest at a stream straight out of the Jurassic Period–tiny trees are sprouting out of smooth round rocks with a new kind of eerie sunlight glowing above.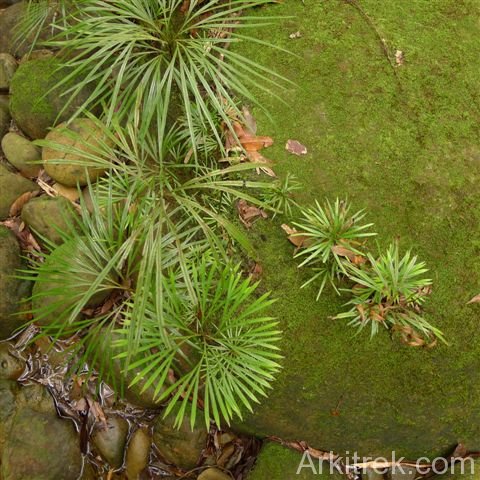 The trek to camp was supposed to last a few more hours yet miraculously, someone says we have only half an hour to go.
6:30 PM August 15, 2011 –
The cicada sends out his call–the best sound of the jungle, Ian says. It's like a melodious air horn, made only from the rubbing together of his wings.
7:30 PM August 15, 2011 –
That someone was wrong. We are still hiking and the mud, trees, sky and people are beginning to blend together in twilight. I tend to sweat like a dude but all the men are still wetter with sweat. The rhythm continues, a little more clumsily, as we prepare to hike in the dark.
8:00 PM August 15, 2011 –
I have not peed all day. Even after drinking bottles of water. My body is hoarding all I give it.
Thank God, a tarp in a clearing. We arrive at camp at dark, ditch our packs on the bashers, and head straight down the slope to the river. Its dark body is haunting, bounded by a narrow tree-lined canyon and the stars above. We are more than dripping already so Daniele, Ian and I walk right in with all our clothes. The current is slow but my heart still beats fast remembering it could sweep me away.
9:00 PM August 15, 2011 –
I have never, ever been so thankful for a plastic cup full of Nescafe. Things are better when you earn them. There's a language rift between me and the guides but Ian interprets some jokes and food brings anyone together anyway.
Daniele and I wind down listing off useful things to remember to bring next time we come into the jungle: a handkerchief for sweat, iodine tablets, a drafting table of sorts, some candy,…
DAY FOUR
2:00 AM August 16, 2011 –
I keep waking up, wrapping my legs tight like a burrito in the blanket, having a new nightmare about leeches coming after my warm body. Thoughts are always more dramatic when you sleep, so I remind myself I'm being silly.
8:00 AM August 16, 2011 –
The nightmare was real. Some leech got all he wanted.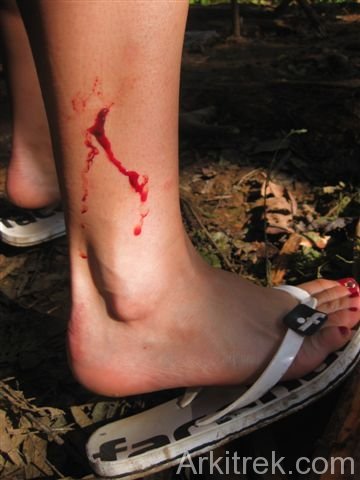 We wake up and the boys hike out to survey the surrounding jungle. We want to scope out the perfect site for a future Arkitrek Camp.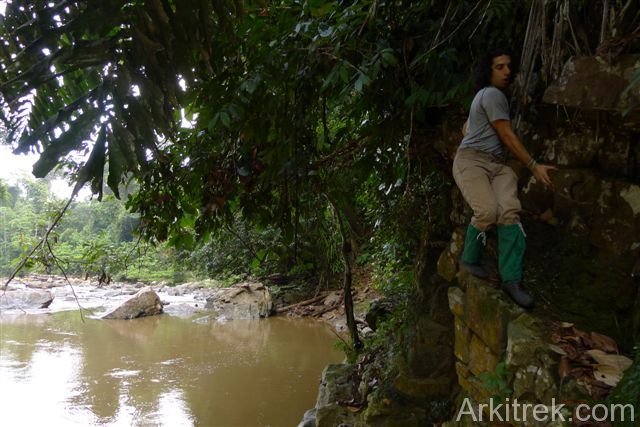 I feel like a helpless lady on an expedition in the 1700s left at camp to sit in the sun while everyone else does something productive. I ask to help some of the guides build a bench but they would rather do it themselves. So I embrace the rest and read a book in the middle of the jungle. Not such a bad deal.
1:00 PM August 16, 2011 –
The guys come back and we go to search along the river banks. We go in a few adventurous circles, Ian hacking vines out of the way, everyone feeling for the perfect spot to begin building. We end up on the rocky bank, Daniele drinking river water from his shoe (don't try that at home), Ian camouflaging himself onto the rocks, and me taking photographs.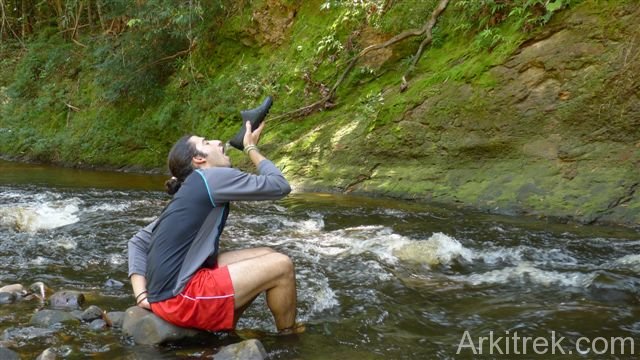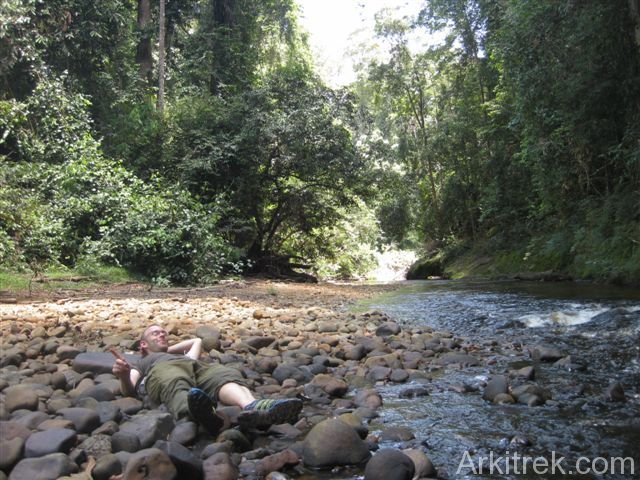 Find the Ian!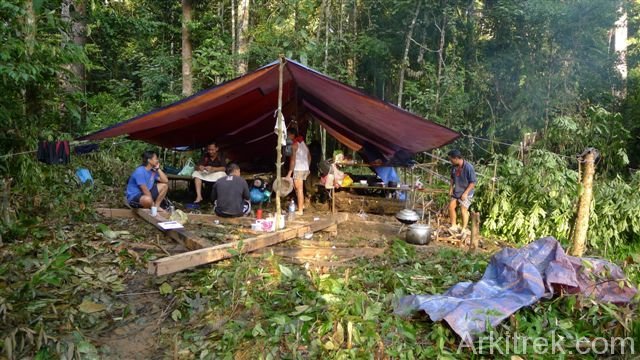 DAY FIVE
8:00 AM August 17, 2011 –
One full day at camp and it's time to trek out–I want to try carrying the pack today. Daniele asks if I'm sure, and my ego says yes. No one seems tired.
10:00 AM August 17, 2011 –
After crossing back over the Jurassic ravine, eating more sardines, and rolling more leeches between our fingers, it's time for the last big push. At least that's how I thought of it then. I cross the small stream and slip all over the rocks. I get frustrated and slip even more. A passage from Zen and the Art of Motorcycle Maintenance aptly sums up the mounting ego of the rest of my hike out:
"To the untrained eye, ego-climbing and selfless climbing may seem identical. Both kinds of climbers place one foot in front of the other. Both breathe in and out at the same rate. Both stop when tired. Both go forward when rested. But what a difference! The ego-climber is like an instrument that's out of adjustment. He puts his foot down an instant too soon or too late. He's likely to miss a beautiful passage of sunlight through the trees. He goes on when the sloppiness of his step shows he's tired. He rests at odd times. He looks up the trail trying to see what's ahead even when he knows what's ahead because he just looked a second before. He goes too fast or too slow for the conditions and when he talks his talk is forever about somewhere else, something else." (Pirsig, p. 212-213).
Here I was, in the Malaysian jungle, treating the trek like a project to complete, self-conscious of my slowness, unhappy to be exhausted from the inundations of a most holy place. At least the awe of the place didn't elude me–even if I was angry, I was angry in awe. That's how powerful the jungle spirit is.
12:00 PM August 17, 2011 –
The guides are strong and patient. They keep offering water even when Daniele and I forget to drink. I decide I need some time alone in this sanctuary and I quit trying to keep up. I am naturally slower than all these guys and going fast is not the way to hike. I lose the people ahead and work off some steam up the steepest hill as my skin literally steams too. The journey is stripped down to Step. Breath. Breath. Step. Breath. Breath. The trees are thinning out, more scraggly now. The air is thick and heavy. Physical bleariness. Life at its simplest and most awesome.
2:30 PM August 17, 2011 –
We stop at the super old, knobby, monstrous Belian tree. This tree is now so dense you cannot even put a nail through its wood. We take amused pictures of Ian as he examines and climbs it.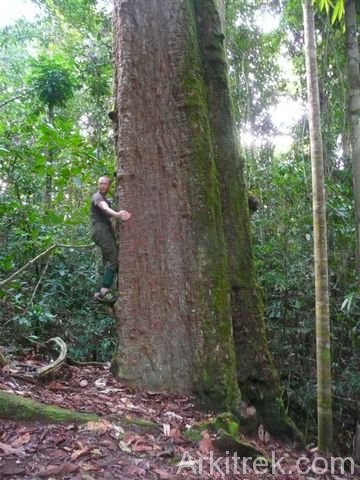 With 30 minutes to go I give up the pack to Daniele. A gesture of surrender to a forest that seriously conquered me. "The forest silence improves anyone." (Pirsig, p. 241)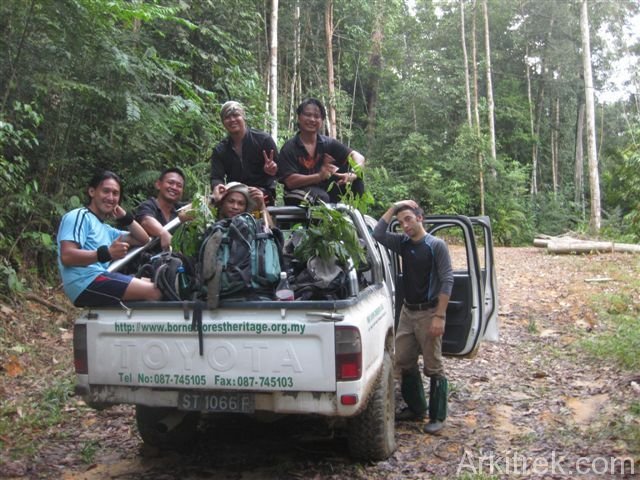 7:00 PM, August 17, 2011 –
Give me a bucket shower!! Again, earned and therefore magical. And necessary.
9:00 PM, August 17, 2011 –
We eat pink rosewater cakes for Ramadan. Ian, Daniele and I sit around playing word games and swap photos.
Last night for a while of the forest hum as I fall asleep under my mosquito net.
DAY SIX
8:00 AM, August 18, 2011 –
Ishmael is back to take us to KK. Soon we figure out the Imbak river is flooded…and have to take an 8-hour detour. We stop for dinner, and later again for a coke and coffees. I feel really safe with Ishmael behind the wheel–he's been driving this leg for a lot of years. It takes us twice as long to return. After 15 hours, a little swerving and running a few red lights, I'm in civilization. Disappointing:/
Few Malaysians even have ever stepped in Imbak Canyon. Every day that passes I feel luckier to have been here.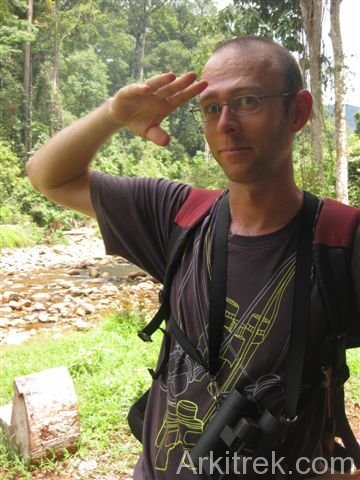 Ian: Peace. Out
Enjoyed this? You can read Andy Lo's account of the inaugural 2005 Arkitrek in Maliau Basin here

Related posts