by Arkitrek | March 4th, 2013 | Green Materials & Products, Muaya, Workshops | No Comments
Rahim Mudin writes about a recent design workshop with the Murut community at Kampung Maligan, near Sipitang in the South of Sabah. The 3 days workshop focused on the production of woven bamboo panels for building construction.
Traditionally the Murut woven motifs are used for small items & accessories such as baskets, traditional baby carriers and mats. Integrating woven bamboo and rattan into building components can promote Murut culture & arts in a new way. The villagers were inspired to give it a go after learning about the Arkitrek design for the Mantanani Community Centre, that uses bamboo panels made by the Rungus community in the North of Sabah.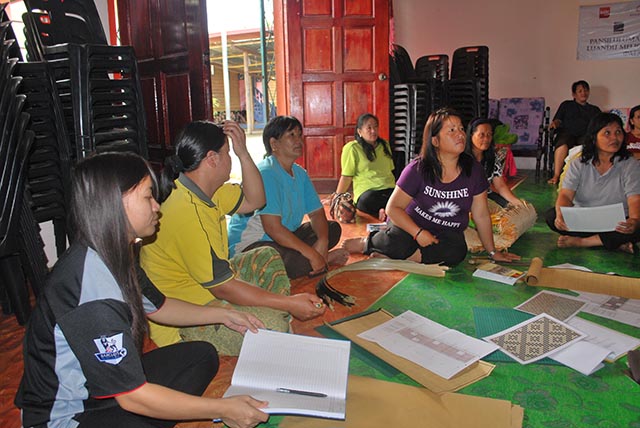 The workshop started with an introduction of bamboo woven panels. Photographs and stories were shared from the Mantanani project. The characteristics & specification of a bamboo panel that could be used to create a wall were discussed. Durability and scale were discussed, as well as design concerns such as ventilation, lighting and maintenance. The villagers were very interested and keen to explore a development of their traditional weaving that could give them an additional economic income.
Work started with small groups of people painting bamboo with natural colours; splitting & shaving the bamboo strips to the specific width & thickness required. The weaving process began with me asking them to make a gap between each bamboo strips for ventilation & lighting purposes. Even though it was difficult for them the first time, the process went smoothly, as the villagers followed the brown paper guide that I had brought along as a sample with exact measurements. For framing, rattan was used and the rattan strings used to tie up the panel.
By the end, we managed to produce 5 panels of bamboo weaving that would be suitable for a building façades. Now that the principles of what is required is understood by the weavers, we hope to work further with them to introduce more of the traditional Murut motifs. The final product will be integrated with our design for the Avantha Rainforest Recreation & Education Centre. Our thanks to all the weavers of Kg Maligan who took part.