by Ian | October 22nd, 2012 | Arkitrek Interns, Bongkud Community Centre, Camps International | One Comment

Over the UK summer holiday a horde of enthusiastic Camps International volunteers made good progress on the Bongkud Community Centre under the expert eye of Arkitrek Intern, Sophie Backhouse.
Ongoing work will be more sedate for the next few months with the peak volunteer season over and villagers pre-occupied with the rice harvest.
It is a good time to reflect a little on the design and sustainability features. The cover drawing illustrates the ventilation strategy developed by arkitrekker, Martin Lambie as an answer to the deep building plan that we inherited from a previous designer.
The image below shows the back entrance where a 'pixelcrete' image wall dominates the elevation facing the neighboring community hall.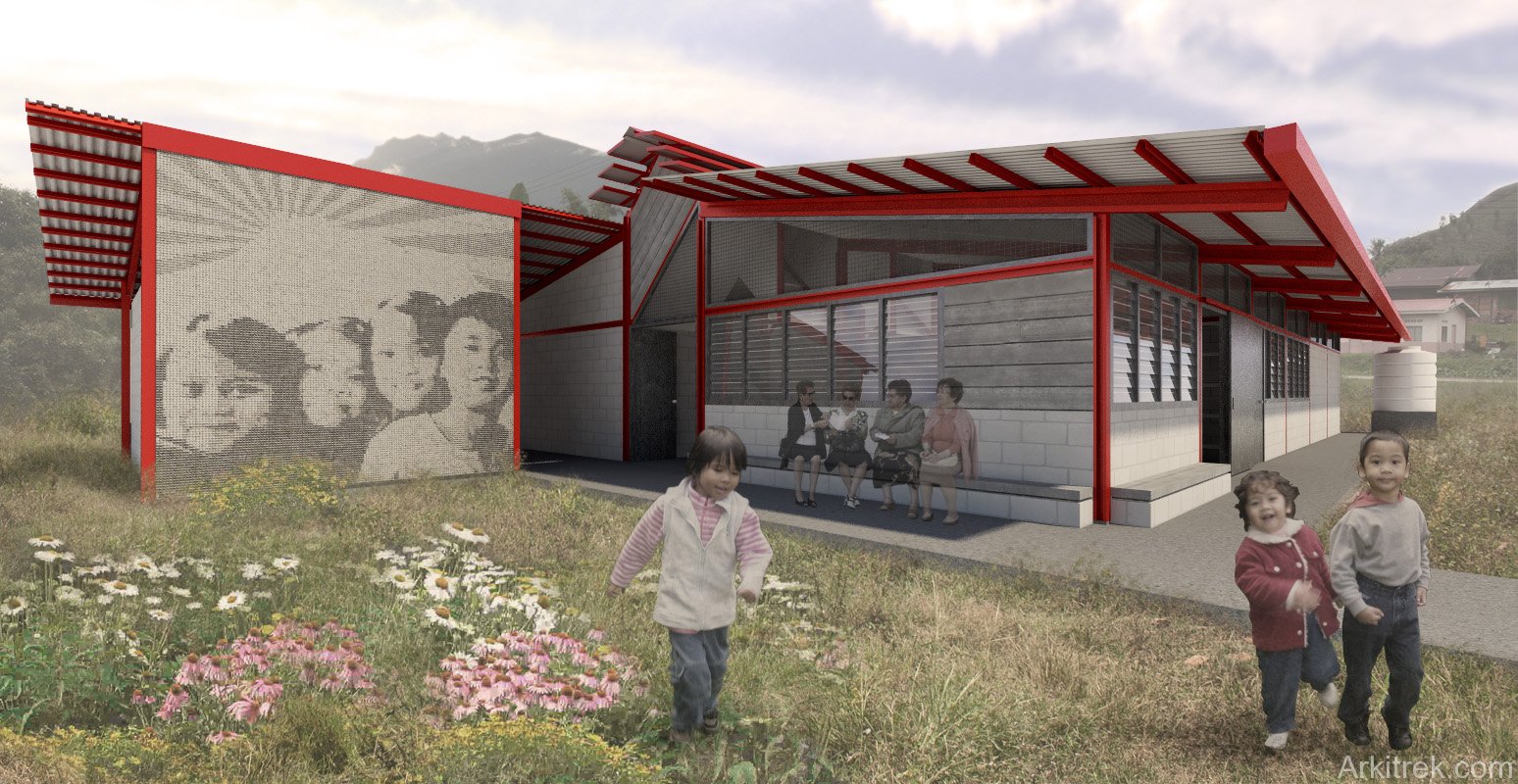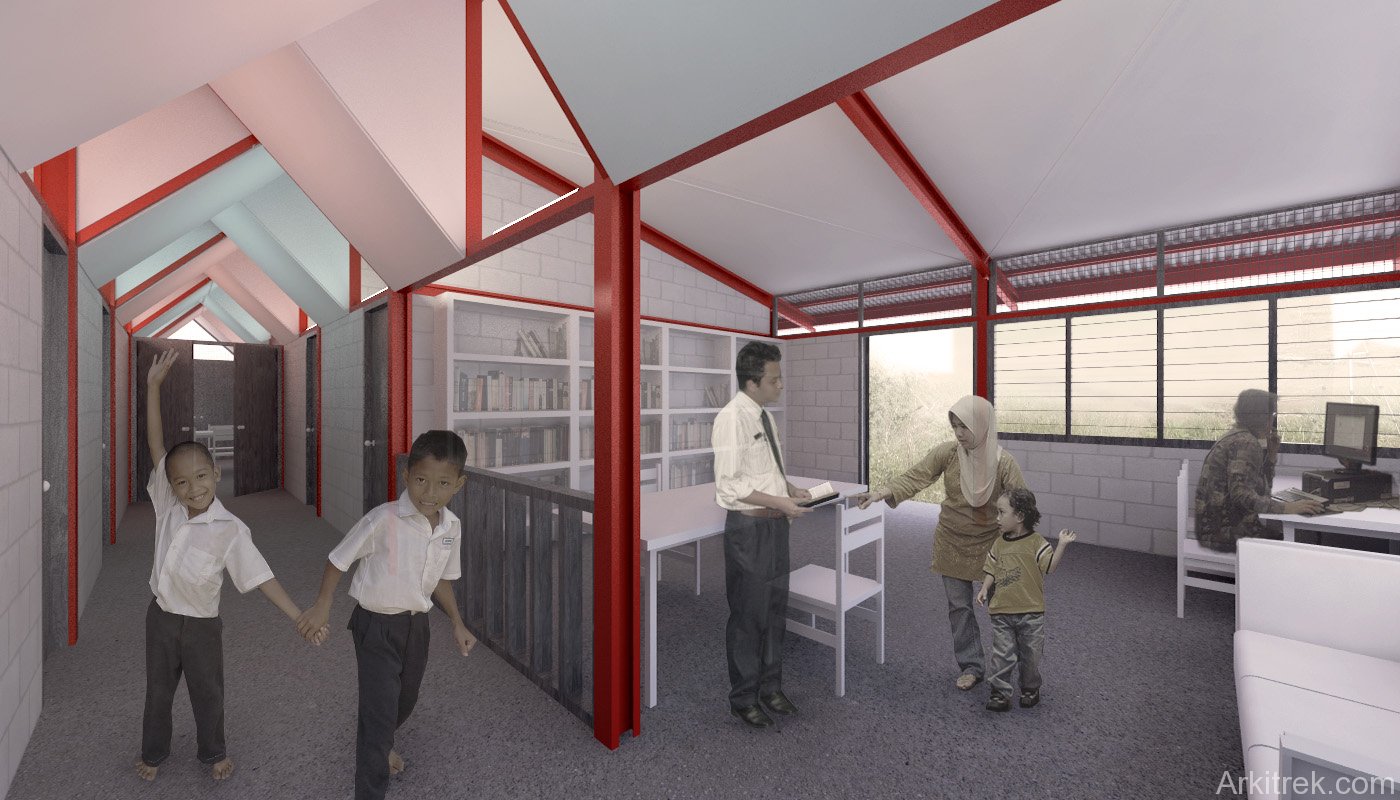 Above: The ventilation design results in a central corridor sculpted with wind & light scoops in alternating directions. This image is taken in the library.


Above: Bongkud Community Centre taking shape. View from the main road.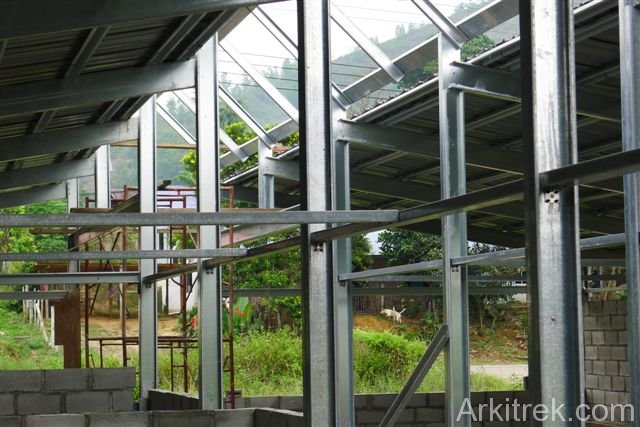 Above: The structure is a galvanised steel frame. We argue this material to be a sustainable choice on two grounds:
1. Steel is a more durable alternative to timber. Local timber supplies are often unsustainable. Recent deterioration in quality of commercially available timber can be argued as evidence of poor management of timber resources.
2. Steel has a scrap value so at the end of a building's life it is highly likely to be recycled.
The concrete block walls we could do better though. Concrete can often be a poor choice on various sustainability grounds. Unfortunately our testing of a potential alternative; pressed unfired clay bricks (see below) is still at an early stage and results do not yet give us enough confidence to use them in anger. Time pressure meant cracking on with locally available material and technology. We did however manage to sneak in some of our coco-crete technology to infill voids created by the 'C' channel framing. Our 'coco-crete' material trials are at a more advanced stage on our kindergarten project in Tinangol.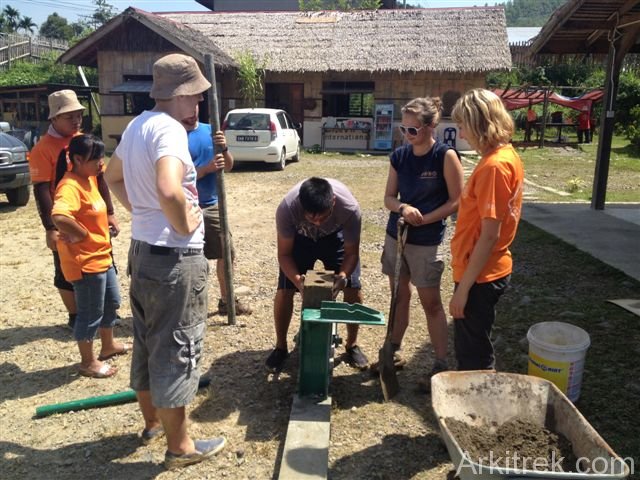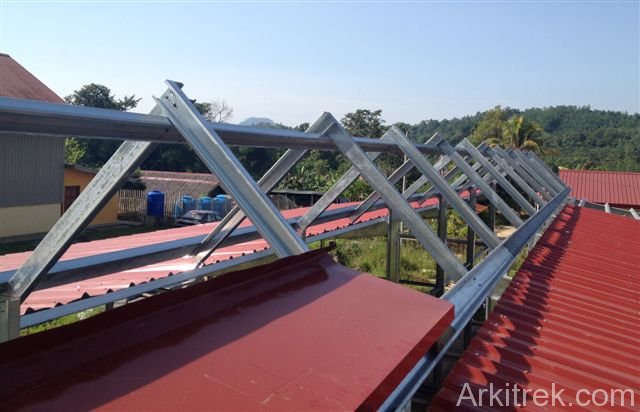 Above: Bongkud Community Centre roof ventilation louvres going on. These are key to achieving good cross ventilation to a deep plan and give the building it's signature form.
Related posts