by Arkitrek | December 27th, 2011 | Arkitrek Interns, Camps International, Mantanani Kindergarten | 2 Comments

[Ed: battling severe weather, Arkitrekkers Tan Zhen Ron and Nick Nearchou oversee the successfull raising of the roof on Mantanani Kindergarten. This landmark stage in the project was enabled by volunteers from Chevaliar College, New South Wales and as always, the whole construction operation is propped up with lashings of wry humour and hard work from Albi, Hashim and Jai of Camp Mantanani]
Raising The Roof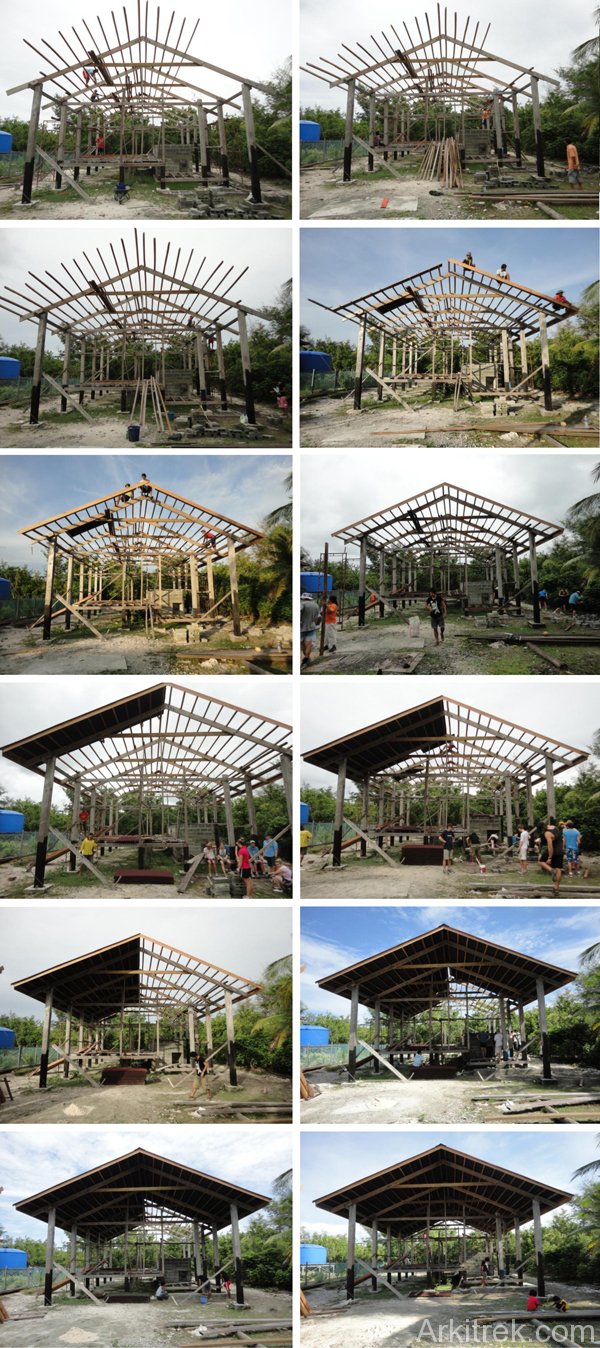 5th–10th December 2011. Photographs showing progression of the roof in sequence. All purlins were laid by the local construction boys before the volunteers arrived. Onduline roof sheets were fitted over 3 consecutive days (due to frequent heavy downpours). The volunteers helped passing the panels up to the local boys.

Concrete Blocks Steps
Arrangement of interlocking masonry units (left) which was laid by the previous volunteers to make entrance steps. The new [improved] arrangement (right) was supervised by Nick. A cement mixing session followed and a total of 2 courses of concrete blocks were laid with a 10mm bedding joint of cement mortar to bind concrete blocks. The concrete block steps are filled with layers of compacted earth, broken blocks and gravel alternatively. The masonry block units are finished with a thin cement render for a smooth finish.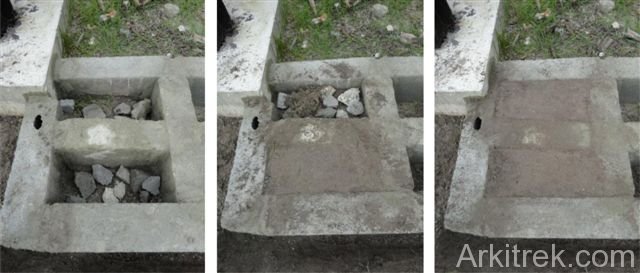 Photographs show the layering of gravels and compacted soil in between the concrete masonry units.


Photograph above shows both the surface of the stair before and after the cement render is applied. Local construction worker, Hashim demonstrates the technique to smoothen the cement render with a trowel.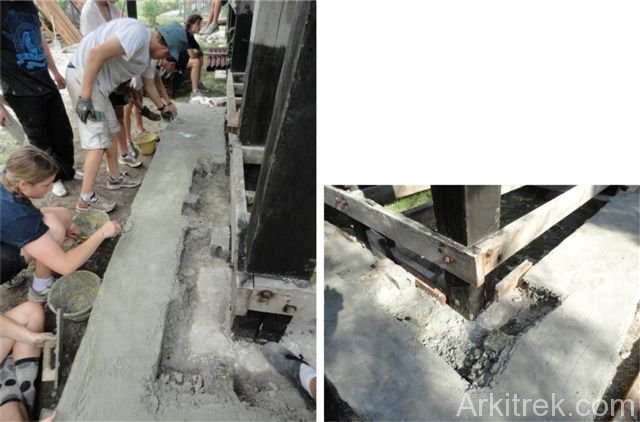 Photographs above show the large gap between the concrete masonry unit with the wooden post due to a shortage of blocks. On Nick's advice, we have decided that this gap here has to be filled with concrete instead of cement only to ensure strength at the corner edge.
Wall Plastering
Volunteers were briefed on cement render mixing by Nick and Zhen Ron. The volunteers worked on the remaining wall plastering at the toilet and store rooms. Albi demonstrated the right technique to render the wall with a trowel. The surface of the trowel has to be rinsed with water frequently in order to get a smooth cement render. Due to the unexpected heavy downpour, some parts of the cement render were being washed away.


The volunteers are applying cement render with Albi demonstrating beside them. The boys are very much proud with their rendering technique.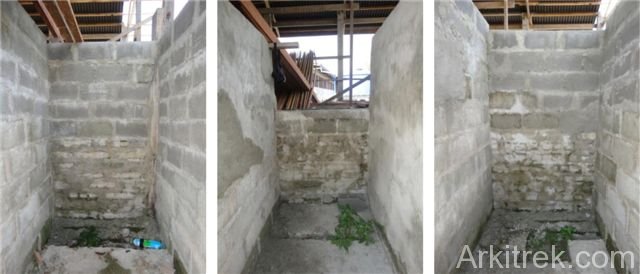 There are still 3 cubicles to be rendered. We will leave this task to the next group of volunteers:)
2 Comments for Mantanani Kindergarten Roof Goes Up