by Ian | August 4th, 2009 | Building Reviews | 9 Comments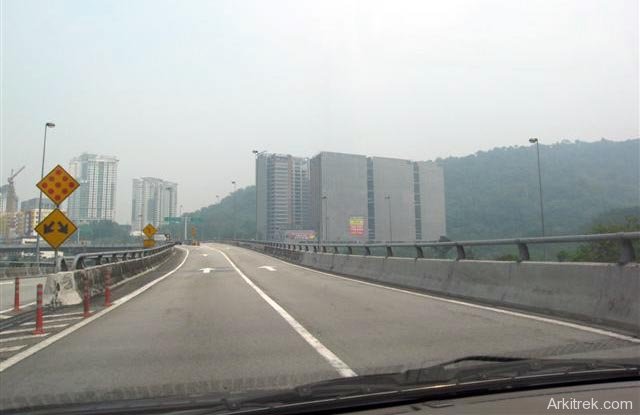 This is my new favourite monolith. KL has plenty of monoliths but most of them pretend not to be monoliths by adding twee roofs, useless concrete ledges or bands of insipid coloured paint. Seen from the encircling motorways, the PJ Trade Centre presents four in-your-face slabs of dull grey concrete.
The slabs look banal from a distance but something makes you do a double take.
Firstly the blocks are not so lumpy as usual. From the side they are slender, not quite elegant but ugly neither. A slender tower is a sign of a shallow plan and for sustainable design this means potential for good natural lighting and natural ventilation.
Secondly there is a texture to the concrete that begs the architectural geek to take a closer look to find out what the material is. It turns out to be precast concrete vent blocks.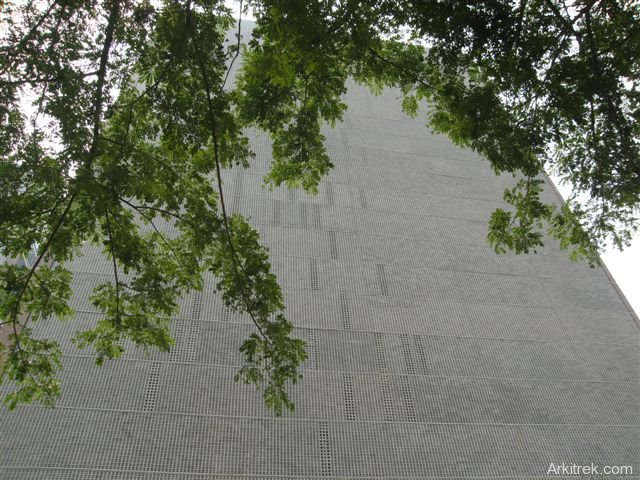 Three of the four blocks have their entire west elevations clad in concrete vent blocks. Behind this translucent screen is a generous metal access deck balcony. To me this makes excellent sense. The west elevation receives the most sun and so this is the most useful place to put a light and air permeable barrier to reduce solar gain.
If this is rational then it is slightly irrational that the fourth block uses unshaded glass on the west elevation (although it still has a vent block screen less usefully on the south and east elevations).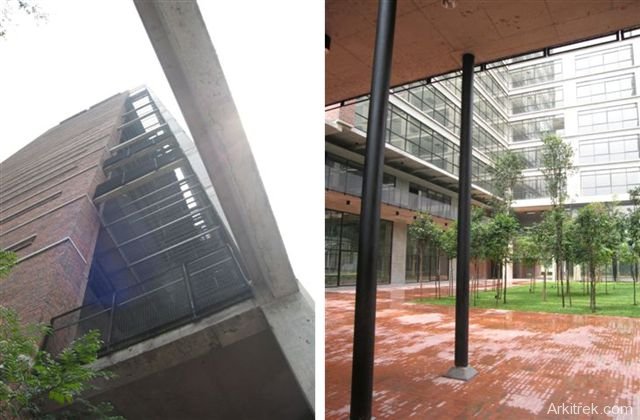 The marketing blurb is full of architectural bullshit; including that the texture of the vent blocks is inspired by traditional Malaysian weavings of batik, kain songket, pelekat and tenun. I don't quite buy this but don't deny that the effect is dully delightful.
As you get closer, more of architect Kevin Low's detailing comes into focus and gives the building a richness that belies the banality of it's first impression. I like the honesty of the unfinished brick and concrete and the way it manages to meet the ground without clutter.
Was I erring toward architectural bullshit in that last paragraph? Perhaps;)
The final touch is the elegant landscaping by Seksan Design. It's just trees and a lawn and brick paths, but we're talking hardwood trees rather than palms and that's a thumbs up in my book. Have you ever tried enjoying the shade of a palm tree? You'd be better off tying a hankie to a broom handle.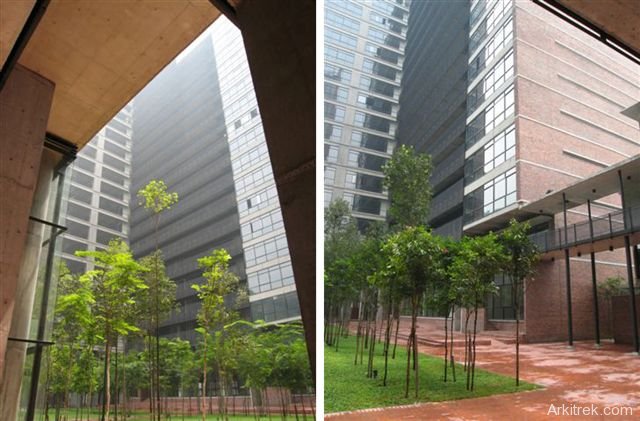 We didn't manage to sneak into any of the office suites (the building is not yet occupied) but did have a look into some of the ground and first floor reception areas. I was disappointed that for an air con building there was no evidence of thermal insulation or air sealing.
The building lacks rigour in the application of sustainable design principles but perhaps that is not its main objective? Nonetheless it's a brave departure from the norm of too much glass, too little glass, too much solar gain and too much air conditioning.
Tenants of the PJ Trade Centre have the option of controlling their own air con. Not everyone in Malaysia wants to work in offices that are cooled to below the legal minimum temperature that buildings are heated to in the UK. This is what happens in centrally air conditioned offices.
So thumbs up for demonstrating so forcefully the concept of passive solar design and a good effort at a place specific high rise commercial building.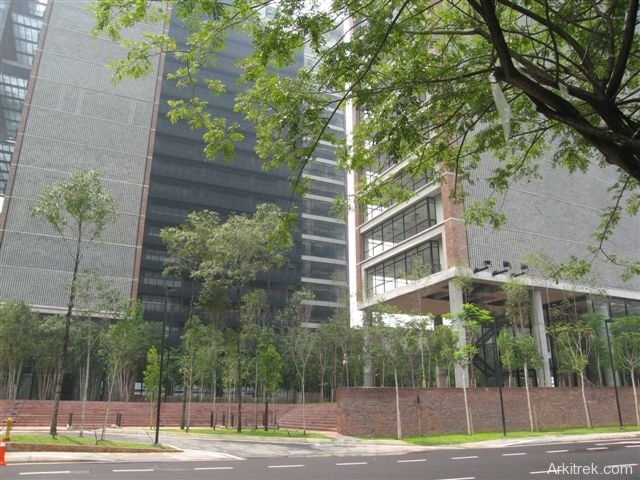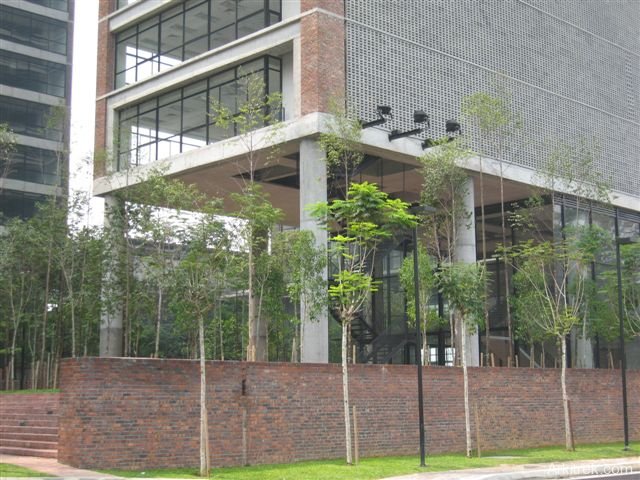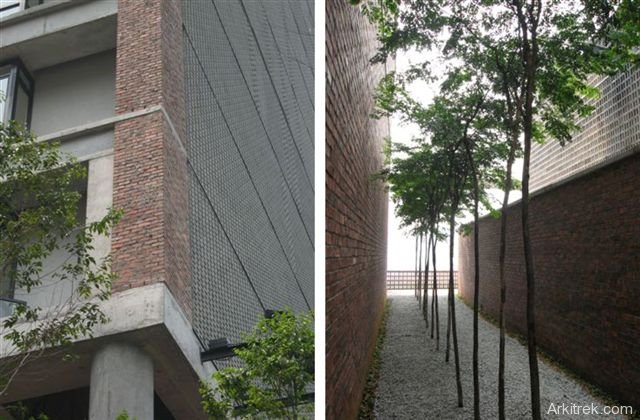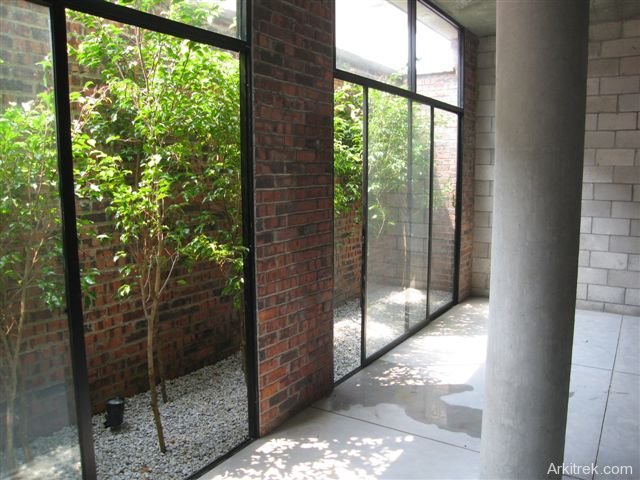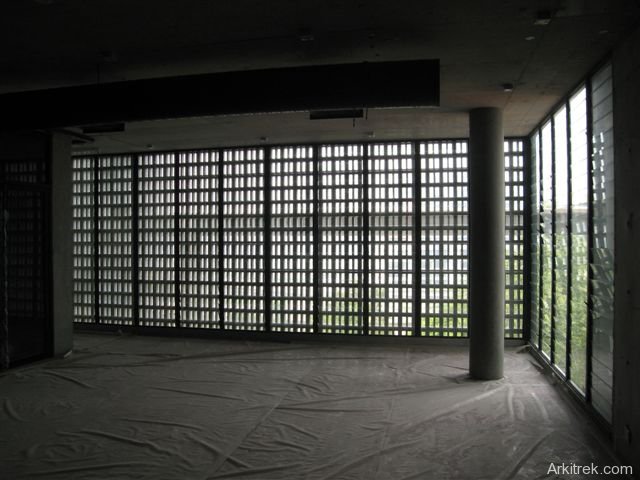 Related posts
9 Comments for PJ Trade Centre