Arkitrek Camp Serasa
Partners: Jerudong International School, International School Brunei, Institute Technology Brunei, Poni Divers, Earthtech
Project: Sustainable Development Ideas Incubator
Role: Design-Build program coordinator
Status: Completed July 2012
Budget: BND 1500
Design-Build Team: Rich Strange (leader), Andy Gilding (leader), Katrina Lim, Lilian Heng, Brian Tan, Sabarish Vish, Hamizah Shahrudin, Irdina, Amal, Nabilah, Farihin Jaafar.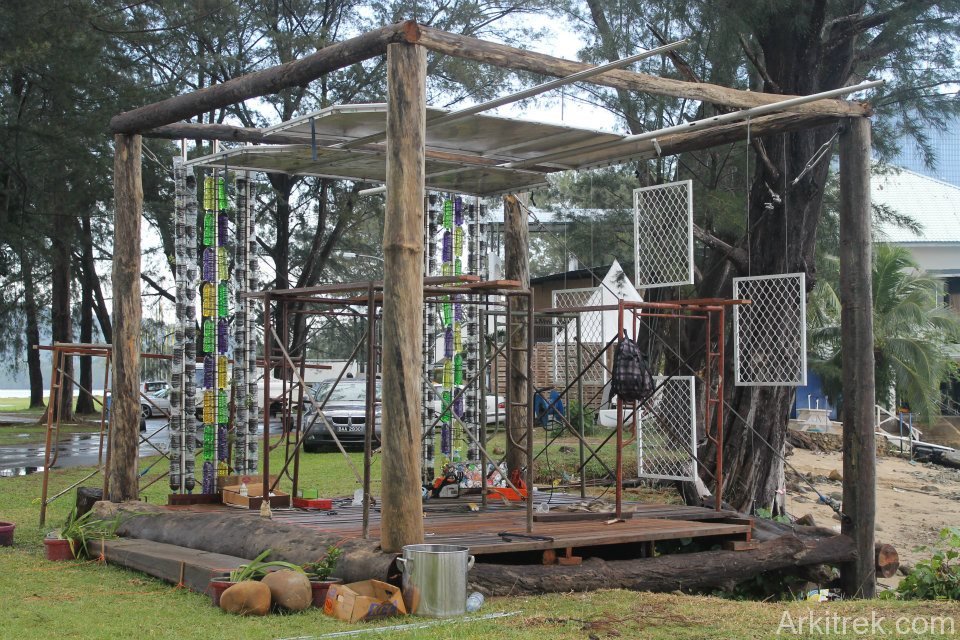 On the 11-28th July 2012 a group of students from Jerudong International School, Institut Teknologi Brunei and International School Brunei came together to participate in Arkitrek's design-build project in Serasa, Brunei.
The aim of the project was to build structures that would generate interest in the sustainable and community led development of Serasa beach, a popular recreation spot in the north of Brunei. The Serasa Experiment, as the group of students called it, spent a week in the design stage and was built in 10 days.
With a tiny budget of BND 1500, 3 structures were realised.
The Green box; an organic based structure focussing on the "green" aspects of nature.
The Cube; a more technical and geometric structure using a handful of recycled materials.
The Sun Circle; a mini grandstand style seating area echoing that of a bird's nest.
The high school students took away invaluable and for most, their first experience in the field of built environment. All students worked hands-on with all aspects of the design and build.
It was a great opportunity
Katrina
I wanted to know what it would be like to be an Architect
Lillian
I was able to put forward my ideas to a good cause
Irdina
To experience the wild side of architecture
Farihin