Arkitrek Camp2
Client: Camps International
Project: Bunkhouse & Rainwater Harvesting System
Role: Design and Build program coordinator
Status: Completed May 2012
Design & Build Team: David Arnott (leader), Anna MacKenzie, Anna Nicholls, Nicholas Teng, Jennifer Sutherland, Shermein Wong, Sarah Greenlees, Richard Nelson.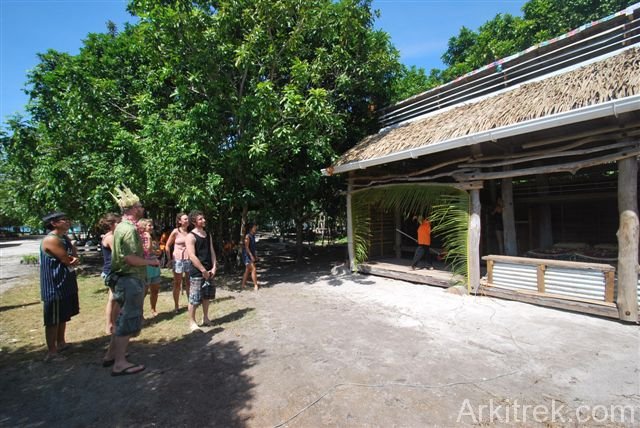 Arkitrek Camp2 completed a bunkhouse and rainwater harvesting system for Camp Mantanani. This eye catching driftwood structure was entirely designed and built by Arkitrek design/build program participants together with local skilled craftsmen.
The nipah thatch roof and woven coconut frond walls provide shade and shelter for young 'voluntourists' who contribute to the community tourism operation at Camp Mantanani. Rainwater from the roofs is passed through a homemade first flush diverter to remove debris before being stored in an interlinked series of HDPE tanks.
Each bunkhouse measures 4mx8.4m and houses 9 beds in 3-tier bunk bed arrangement. Construction cost per building was MYR10,000 including rainwater harvesting. The design-build was completed in 3 weeks.
The Arkitrek design/build team were also responsible for planning the layout of a further 4 bunkhouses. These extra buildings were built by local craftsmen under the design direction of Arkitrek Camp participant Anna Nicholls who stayed on as an intern for an extra 3-months.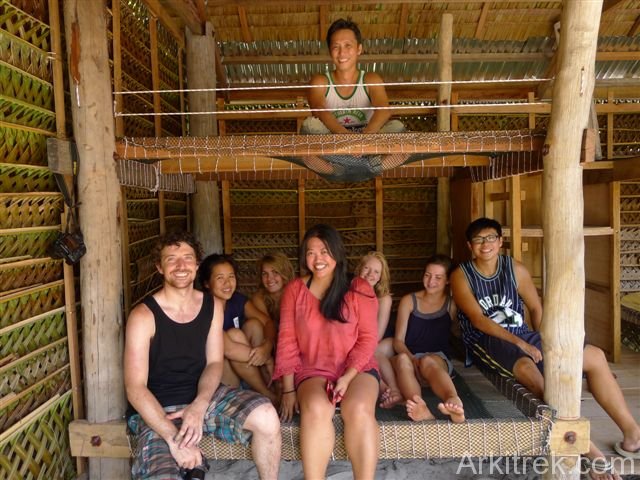 The project heightened my sense of spacial perception and awareness in comparison to just designing through drawings in an office. I have realised that even small differences in dimensions can make a large difference to how it feels to inhabit a space
Anna Nicholls, Arkitrek Camp participant and Arkitrek Intern
This is a small and beautifully formed building, full of delightful details and with exceptional space planning. It has outstanding environmental performance and gorgeous use of natural materials. Congratulations to our arkitrekkers for making Arkitrek Camp2 such an outstanding success
Ian Hall, Founder, Arkitrek
Arkitrek Camp2 Photos
Arkitrek Camp2 Timeline