Malua Field Laboratory
Client: Southeast Asia Rainforest Research Program (SEARRP)
Project: Field Laboratory at Malua Field Station
Role: Design/build project coordinator
Status: Completed August 2012
Design & Build Team: Daniel Cohen (leader), Jonathan Livesey, Ong Teen Nah, Alayna Kilkuskie, Maria Kaskareli, Chew Pui Cheng, Nic Lim, Farihin Jaafar, Tan Su Mei, Benoit Sandjian.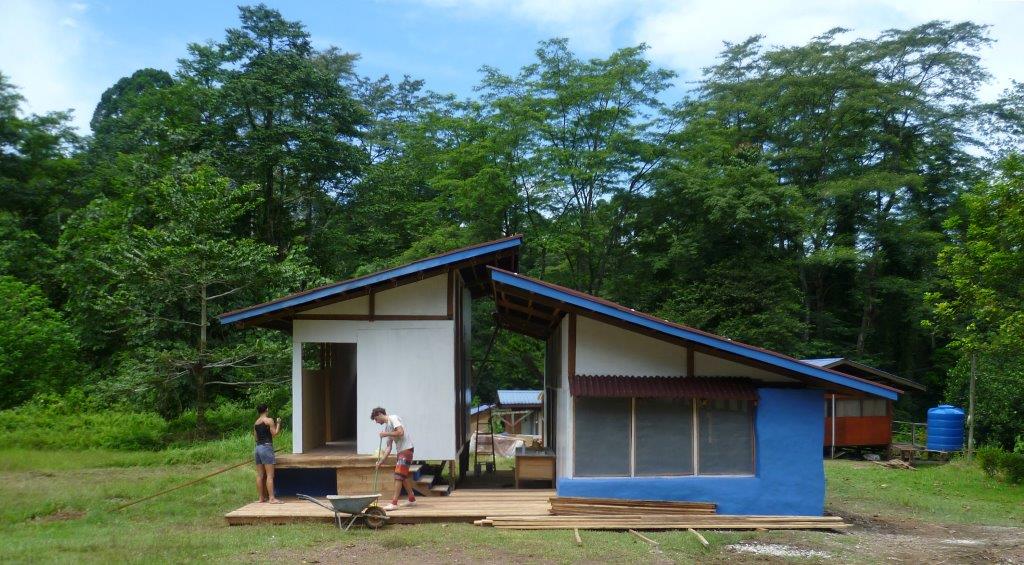 This small field laboratory was designed and built by Arkitrek Camp participants for the Sabah Biodiversity Experiment at their Malua Field Centre.
The client needed needed a clean, dry and comfortable internal environment divided into a dirty lab (for sorting field specimens) and a clean lab for computer and simple technical work. An existing laboratory was dismantled, with the exception of solar drying room which was retained and integrated into the new design.
The Arkitrekkers realised that in-between spaces or 'social eddies' were important for informal learning amongst the centre's researchers and research assistants. Two buildings with a gap between them did the trick; the raised bit for the clean lab and at ground level, the dirty lab. The in-between bit a magic two-metres wide, roofed and decked and with adjacent buildings staggered to catch breezes. The researchers love it, apparently.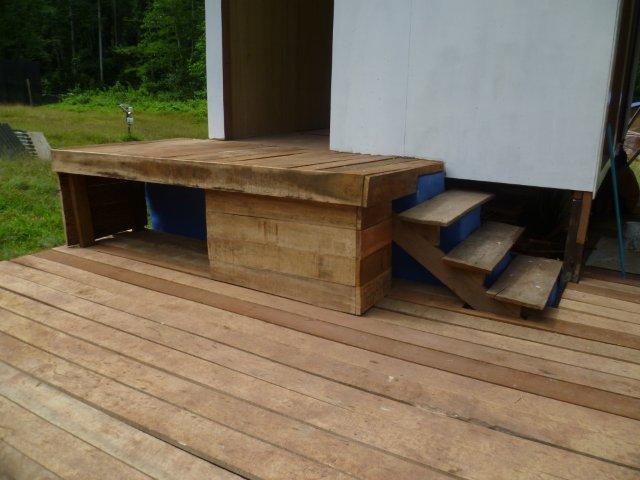 Another objective of this Arkitrek Camp was to prototype earthbag and oil-palm-crete construction materials.
Earth bags were filled on site as a response to the challenge of transporting construction materials to a remote site. The team sampled soils from the area and blended them as necessary to achieve the correct mix of sand and clay. The hard bit was processing the soil and ramming it into 2nd hand pvc sacks, the team had to become instant-experts.
Building lime (Calcium Hydroxide), cement and sand were blended with oil-palm fruit fibres to create a lightweight, low carbon, thermally insulating concrete – or oil-palm-crete. Fibres came from a nearby oil-palm mill, ready processed and almost inexhaustible in supply.
Both materials innovations worked well enough to give us confidence to propose them for the much larger SAFE Project permanent field station.
It had been a long time since I had designed as part of a group. My last few projects have been individual and mainly university based projects. I found that the Malua design process had a different feel to it and I think it was due to it being a live project and as we put pen to paper there were going to be repercussions; good or bad we were leaving a our mark on their site.
Jonathan Livesey, Arkitrekker
Read Jonny's blog about his Malua experience here
More about the project here