The Fig Tree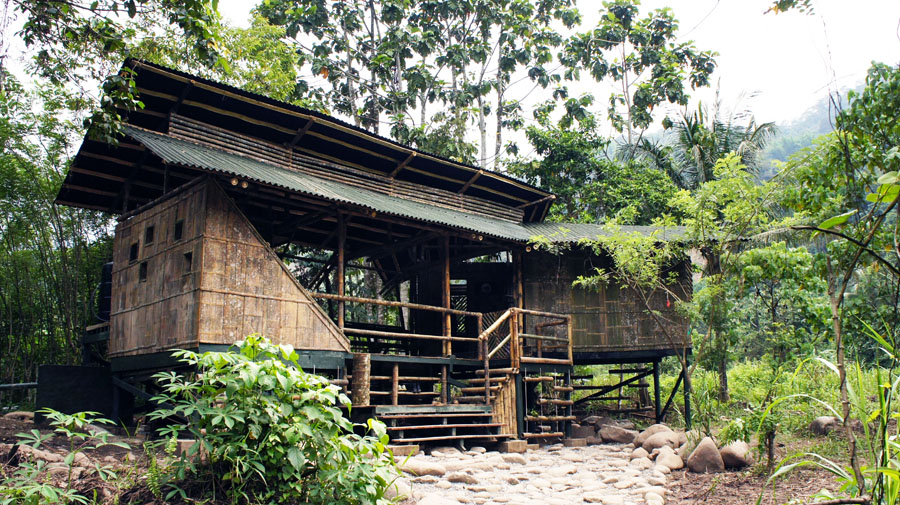 Client: Borneo Eco Tours
Project: The Fig Tree
Role: Design and Construction Management
Status: Completed August 2015
Design Team: Ian Hall, Rory Dickens, Peter Thatcher, Catrin Spinner, Toni White, Gabi Harkness, Hannah Chisholm, Beth Day, Low Pey Sien, Mónica Ruiz Rituerto, Martina Manna, Callum Rennie, Avril Bennie
'The Fig Tree' is a live design + build project located in Ulu Kiulu – The Valley of the Mist – in a Dusun community comprising three villages; Mantob, Dumpiring and Pinagon Baru. The project hopes to act as a catalyst for the joint venture between the three villages and Borneo Eco Tours to create a community-owned tourist destination named Kiulu Farmstay to diversify community income and improve the livelihood of the local farmers.
Building Objectives
1. To provide a low-impact, affordable construction alternative to the modern concrete houses that have diluted the traditions of rural Sabah.
2. To build local pride in vernacular and cultural knowledge providing secure employment for both genders, strengthening the communities' resilience to city migration.
Environmental Design
The experimental 2-bedroom, 1-shower-room eco-lodge combines traditional and modern construction techniques harnessing the skills of the indigenous people and international design teams passion for modern vernacular. Locally harvested and treated bamboo was used entirely for the primary and secondary structure above floor level, minimising the need for plantation and forest timber that may come from unsustainable sources. The design team collaborated with the local builders to develop a sustainable, cheaper alternative to plywood bio-crete formwork using a sacrificial bamboo frame cast into a permanent bio-crete wall encased with silou (split bamboo). The bio-crete, made using waste rice husks sourced from the village, naturally cools the bedrooms and shower-room through evaporation of moisture removing the need for energy intensive air conditioning the locals cannot afford. Simultaneously, the open facades to the north and south of the social space allow for natural ventilation with views out to the river. To prevent septic tank effluent running directly into the river, the team installed a leach field which creates a nutrient rich landscape for the adjacent rice paddy nursery.
Legacy
The Fig Tree was completed on 26th August 2015 officiated by Y.B. Datuk Joniston Bangkuai, Chairman of Sabah Tourism Board. In his speech he stated that "Kiulu has magnificent landscapes and one of the cleanest rivers in Sabah." Since completion, two bamboo-bio-crete huts designed by Arkitrek have started construction close to The Fig Tree to provide necessary facilities for day tourist activities. The construction techniques developed by the design team and local builders on The Fig Tree project are being replicated with the intention of carrying them through to the further projects of Kiulu Farmstay.