The Tagal Hut
Client: Kg. Meligan Community
Project: Tagal Hut
Role: Design and Construction Managment
Status: Completed August 2014
Design Team: Ian Hall, Rahim Mudin, Sarah Greenlees, Rory Dickens, James Coe, Johanna Mayr, Erica Malaguti, Putri Haniman, Shafinaz binti Ahmad Shazalli, Revathi Roopini Veriah, Syahrul Syazwani Shaharir.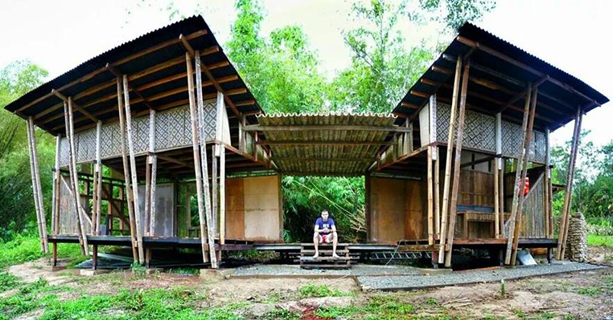 Tagal is a traditional fresh-water fish conservation method used by indigenous communities in Sabah. The Tagal hut is used for Tagal management meetings, fish food preparation, domestic tourism (fish spa and fish feeding) and sales of fish and other community products. The built-up area is approximately 40m2 and includes multi-purpose meeting spaces, fish feed preparation area and storage plus separate WC and shower.
The Pondok Tagal (Tagal Hut) was funded by the Sabah Fisheries Department and supported by the Avantha Foundation Malaysia. Design and build was by Arkitrek and Arkitrek Camp participants.
Focusing on the reduction of embodied energy in the construction process, the design/build team used locally sourced and treated bamboo and reclaimed timber in the construction of the primary and secondary structure. Waste from construction (sawdust) and crop production (risk husks) was gathered and combined with lime in replacement of aggregate and cement to build infill walls. This biocrete is a brick/concrete substitute, which has hygroscopic and insulative properties that passively help to keep the building cool.
A 1.7m roof overhang on the southern elevation serves a number of purposes; preventing rain penetration, sun penetration and encouraging natural ventilation within the habited spaces. A solar screen is also installed in the form of woven bamboo panels, produced by women within the village in the traditional Murut style.
Cultural values, identity and community involvement were important to the design team, and the inclusion of the bamboo panels, traditionally painted Murut columns and bamboo cladding features promotes this idea. By educating the local school children on the importance of recycling plastic, the team provided an opportunity for the kids to get involved, leading to the creation of plastic bottle walls.
Finally, observing the abundance of rainfall on the site, the team incorporated a rainwater harvesting system to collect water for use in the building and WC, leading to the addition of a leachfield to treat and disperse effluent from the septic tank.