by Arkitrek | October 16th, 2013 | Arkitrek Interns, Green Materials & Products, Other Projects | One Comment

Text and photos By Isabel Sandeman
I was going to call this post 'Japanese Joinery – Dusun style..' but it occurred to me that there was something more poignant to this exercise than simply connecting bamboo. The exercise demonstrated the potential of bringing new design ideas to traditional skills and local materials.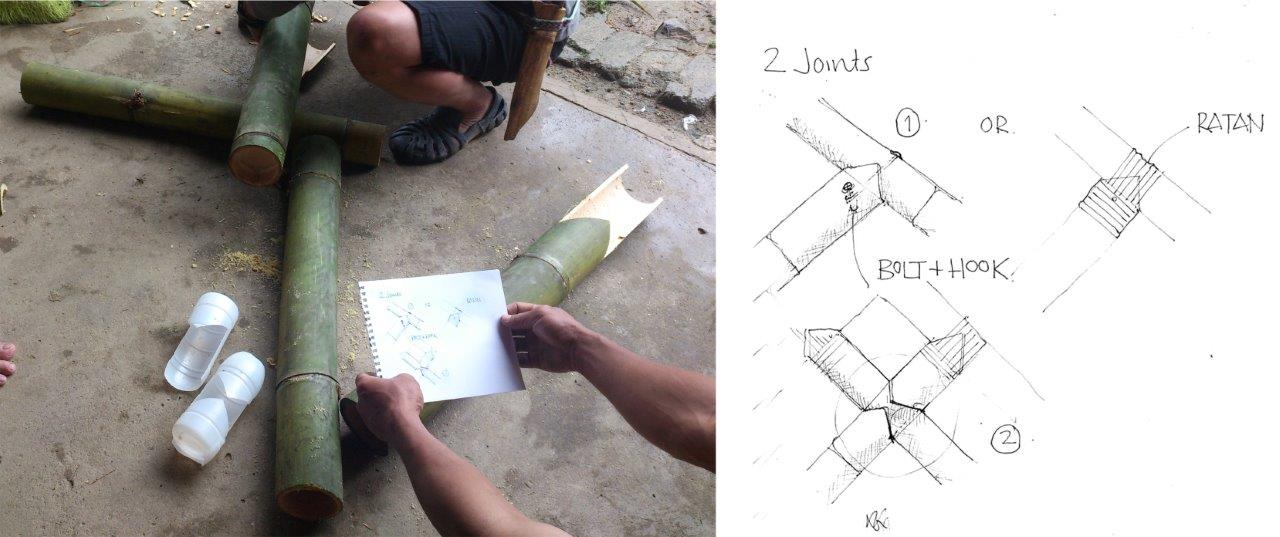 The community in question is Kampung Kiau where Arkitrek and Hasegawa Xavier Associates are voluntarily designing an expedition camp to promote the historic Hugh Low Trail up Mount Kinabalu. The building is located in thick jungle, which limits the construction materials almost exclusively to bamboo and river rock. This set up a number of challenges for designer and builder.
On one rainy Saturday, I worked with several very skilled local carpenters to construct some mock-up bamboo joints. Armed with several wet drawings and a model made from two empty soy sauce bottles, I asked the guys to construct a unprecedented bamboo joint, which they later told me they considered 'completely impossible'. Despite thinking me clinically insane, they approached the task with enthusiasm and perseverance. Eventually, everything (literally!) slotted into place. They told me that, once they knew how to do it, the connection was easy to achieve and stronger than any existing alternatives. I can't use a parang (machete) and my carpenter friends would never have thought to join bamboo in this way. The joint epitomised the perfect collaboration between designer and the guys with the skills.
I hope this exercise and the challenges and opportunities still to come, will change the nature of bamboo construction in Kampung Kiau. With such receptivity from the builders here I expect that they'll be many more eureka moments to come!
One Comment for The Eureka Moment!