by Ian | March 25th, 2007 | Danum, Maliau & Imbak | 3 Comments

I've recently been off on site visits with friends from the USA. In fact Mauricio is Mexican and Susan is German but they both practice in Los Angeles with a company called Urban Networks. As the name suggests they have a largely urban portfolio but are pretty hot designers and are well up on sustainability issues. I'm working together with them on proposals for a new Studies Centre in the Imbak Conservation Area. Until this trip we had only met by Skype conference but over the course of ten days on the road we developed a great mutual respect and I'm pleased to say became close friends. Thanks for this are due to another friend Cynthia of LEAP who has put the team together and whose drive and committment is taking the project forward.
Followers of this blog will be aware that I have been involved in the Imbak Canyon project since I was sent there by Raleigh in 2004 to facilitate some young volunteers to come up with concept proposals for a new studies centre. On that occasion my colleagues in Raleigh had short listed some potential sites but the areas in question were still heavily overgrown secondary rainforest. It was our job to try to visualise a studies centre on a site that you literally could not see for the trees. Since then a base camp has sprung up whose buildings and layout have elaborated on designs that I sketched out. On subsequent trips I have been able to survey the Studies Centre site in more detail and refine the original concept design.
Knowing this you may therefore by sympathetic to my feeling of threat when informed that a group based in the US had come bearing sponsorship money and were to take over the architectural design of the Centre. This fear very quickly gave way to the realisation that my involvement wasn't under threat but that I would have to adapt to a changing role. With this in mind I contacted Cynthia at LEAP and found myself with a new and perhaps more exciting opportunity. Our first task as a team was to plan a study trip and site visit to conservation areas in Sabah.
As the date for the trip drew closer the itinerary became increasingly jam packed. We planned to visit not only Imbak Canyon but also Maliau Basin and Danum Valley conservation areas. Perhaps heeding my grumbling about hours of driving on bumpy 4WD logging roads, Cynthia introduced the idea of doing one leg by helicopter. This would be very instructional and would indeed help us to fulfil our professional obligations we all agreed. The trip budget was re-examined and I began to believe that after four months living under a tarpaulin at the edge of the conservation area I might finally get to see the legendary Canyon from the air.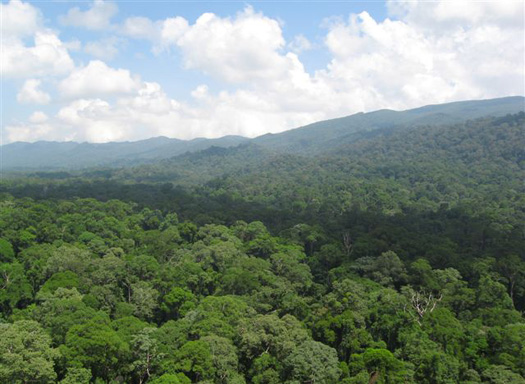 The flight from Kota Kinabalu to Imbak takes about an hour and on the way we crossed the virgin rainforest of the Crocker Range National Park followed by miles and miles of secondary forest degraded to varying degrees. On this flight plan we were fortunate, or perhaps unfortunate not to instead cross miles and miles of palm oil plantation which generally succeeds secondary rainforest. As we were just starting to get bored the pilot announced in our headphones that the boundary of the Canyon was ahead. What I could see was a forested mountainside rising to the same altitude as our aircraft and stretching away to either side. The top of the ridge was hidden in cloud and we feared that we would not find a break which would allow us to cross. We were flying into the sun and the cloud seemed blinding white and impervious, the jungle almost black by contrast. A gap appeared and we altered course. 'Oh lucky day!' announced our pilot 'welcome to the lost valley of Imbak'. I felt my breath choke in my throat.
We crossed the ridge top with 200ft to spare and dropped steeply to follow the valley floor. Imbak is not really a canyon but as they already have a 'Valley' and a 'Basin' it was necessary to come up with a different sound bite. I have been lucky enough to fly over Maliau Basin by helicopter but it has nothing like Imbak. The valley floor of Imbak is wide and level and is carpeted with enormous trees. It would be easy pickings for the logging contractors and as you might imagine they are all scratching at the door. Imbak's existence is still tenuous for although it has been set aside for conservation, it could still legally be logged. All that it would take is a decision by a single politician who may or may not be best mates with some logging contractors. The existence of a studies centre and nature tourism operations would go a long way to beefing up it's protection.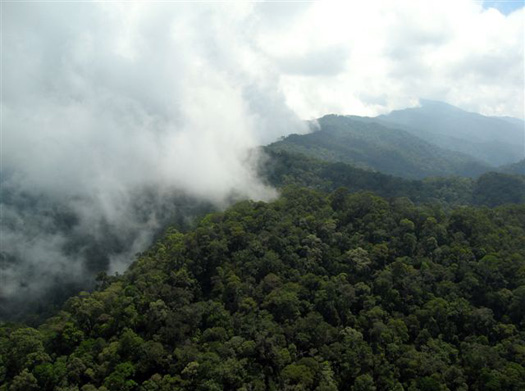 3 Comments for The Lost Valley of Imbak