by Ian | November 3rd, 2006 | Danum, Maliau & Imbak, Jungle Trekking | No Comments

As we were tucking into our dinner last night we were rudely interrupted by an extraordinarily loud crash. It scared the life out of Eda who immediately leapt into Jamil's arms, thus confirming a point of gossip that Andy and I had been debating for some days. We continued munching our steamed fish for a few more moments before Andy voiced what I had been thinking.
'That sounded like it came from the region of our hammocks'.
Having managed to let go of Eda, Jamil rushed off to investigate and returned slightly animated to tell me that my stuff was getting wet! We trooped round get some of the action and were impressed to see that a falling tree had demolished the end bay of our dormitory where our beds had been and that the rain was pouring in through splintered timbers and crumpled sheets of corrugated aluminium. I dived straight in to rescue my laptop and in doing so answered that normally hypothetical question 'if you could only rescue one thing what would it be?' as it happened there were enough hands on deck to ensure that my sleeping bag and books were moved safely into the dry before my hammock filled up with leaves and rainwater.
We retired to finish our dinner and to debate the essential nature of trees; they germinate, grow tall and then fall over and that given the inescapability of this fact should we build homes underneath them? I have a feeling that this debate will trundle on for some time to come.
Meanwhile I'm sure you can't wait to hear about progress of my pondok pogrom. Well my stance has changed from 'death to all pondoks' to 'oh well, if you must but only if they can be critically justified'. What this means is that I've been questioning what a pondok is and what it is designed to do.
To start, perhaps the idea would be easier to swallow if they weren't called pondoks but instead something like; 'visitor management facility', 'trekker containment solution' or 'behavioural suggestion installation for environmental protection and visitor safety'. However at risk of degenerating into 'business bullshit' (as a friend likes to call it) I will refer to 'deck', 'railing', 'lunch spot' and 'covered bench'.
Since my last email I have had a good chat with Dr Waidi who is my client representative at Yayasan Sabah. As usual he has all the answers and was able to substantially clarify the components of my architectural brief. Sometimes I worry that he is actually the only person who has an idea of what's going on but on other occasions I am relieved that there is someone as astute as he in charge of all these fantastically valuable and equally as fragile conservation areas.
The intention is to develop the spectacular Maliau Falls as the focal attraction of Maliau Basin Conservation Area. To explain this role it is useful to draw a comparison to Kinabalu Park. Here only a small proportion of visitors make the arduous climb to the summit of Mt Kinabalu. Nevertheless the climb is the Park's most famous asset and it is attainable to most able bodied visitors. Similarly not every visitor to Maliau will see The Falls but the opportunity should be there for as wide a range of poeple who want to make the effort.
If this is the case then my question is; is it justifiable to pepper the Maliau Falls trail with decks, railings, lunch spots and covered benches? The surest way to broaden the range of people who can reach The Falls is to make the trail as easy as possible with well constructed steps, walkways and yes, you've guessed it the 'P' word.
My next question is; why is it necessary to get all these people into The Falls? Let's remember that Yayasan Sabah's obligation is to Malaysians living in Sabah. These forests are being conserved in their name therefore every Sabahan should have the opportunity to go and visit. The other less obvious reason is that the future of MBCA is not guaranteed. An act of government made it a conservation area therefore an act of government could equally un-make it. Why might the politicians want to do this? Of course there is logging (including the fantastically valuable Agathis tree) but there are also rich coal deposits with an estimated capitalised value in excess of 200 million US Dollars.You're going to need many years of eco-tourism to make this kind of money and unfortunately economists to not give equal weighting to financial benefits that accrue in the future.
One thing that might stay the politician's hand is the voice of their electorate. That is why Maliau Basin needs visitors, particularly Malaysians who can experience at first hand and through environmental education the value of Sabah's natural history.
In this case my feeling is that maybe a pondok or two in the right place is not too high a price to pay. The next challenge is how to design them with as little environmental impact as possible.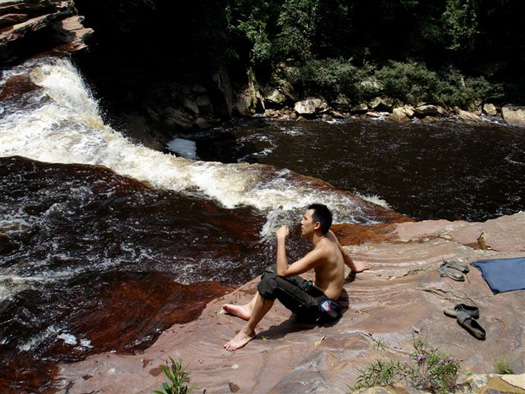 Related Posts